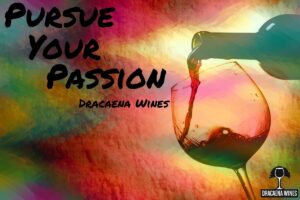 What is the definition of being successful? Is it making more money than you know what to do with? Is it having letters after your name that people aren't even sure what they mean? Or is it simply being happy? When Mike and I decided to enter the wine business, we knew it wasn't going to be an easy road. We were realistic. We understood that we would neither be an overnight sensation, nor ever be as recognized as Robert Mondavi. That's not why we entered the business. We entered the wine industry because we love wine and it was our dream to own a winery. We chose to not just wish or dream about it, we made a conscious decision to make it happen. We chose to Pursue Our Passion.
It's a scary thing chasing down your dreams, but if you don't enter the race you are never going to win. One of my favorite sayings about Pursuing Your Passion was made by "The Great One," Wayne Gretzky. He very eloquently stated, "You miss 100% of the shots you don't take." He knows you need to take risks. You need to leave the safety net that tethers you to your comfort zone so that you can experience what happens next.
In this, what has become a monthly tradition, a guest blogger will tell you their story of how they pursued their passion in the wine industry. These people understood what Van Gogh meant by "I would rather die of passion than of boredom."
Every once in a while the stars align to allow you to meet someone who you immediately recognize as a special person.  An individual that has so much personality and is just full of pure goodness that it oozes out of them so that everyone can see it! Well, that is Amber Burke. In all honesty, I don't remember how our paths crossed. I know it was through social media, but I don't who followed whom, or what post caused the interaction, but I can say that I am so thankful that it occurred.
Amber's heart is huge! She genuinely cares for people. She is always willing to share her knowledge and is always just a text away if needed. For quite some time, I only knew her through social media, but last November at the Wine Bloggers Conference, I had the privilege of meeting her in person. And she didn't disappoint! She is as true as can be, and I am honored to call her a friend and excited to be able to share her story of passion! 
Unlike most of my colleagues who write about wine, I never had writing as a goal when I started off on this path.
I began with wine at a very early age. My father was a wine lover and taught me the basics as he felt it was an important part a young lady's education. It did end up paying off for me as my wine pairing was a part of my life and career as a major events coordinator. At that point I worked with chefs and hotels to select wines for the events I was managing.
When I married my husband, wine, beer, and craft alcohol became part of our life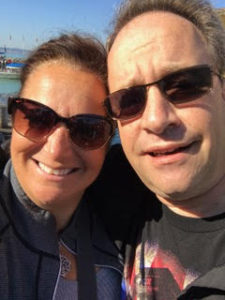 together as he is British and much of our life in England was based around the pub and our travels around Europe.
When we moved to the US, we bought a house right outside of Napa with a huge wine cellar. Neither one of us knew much about American wine, but we couldn't wait to dive in and learn. We became collectors and surrounded ourselves with friends who shared our passion for excellent wine. As I had a background in hospitality, ours became the party house and we often had friends over to share our latest wine find. We found ourselves spending more and more time in Napa tasting rooms, and loving the wines we experienced.
It was also around this time I started another hobby – photography. I had never owned a camera in my life and capturing the beautiful vineyards we visited was a great way to learn. Little did I know how useful this skill would become for our blog down the road.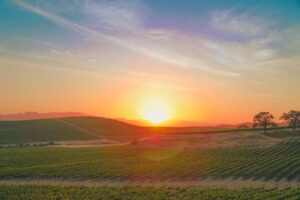 One of the things that we loved about wine is that it was a hobby that we could enjoy together as a couple. We would spend our weekends in the vineyards and connect and communicate with each other in a fun and relaxed atmosphere. It was like being on vacation, and stepping away from our everyday lives. Sharing a passion with your partner is one of the best ways to stay connected and it definitely does that for us.
Our blog and writing about wine came out of a couple of chance conversations. One of my husband's colleagues wrote a blog about bargain wines from retail and grocery stores. He started reading her blog and following along with her adventures. I think though, what really sparked our own blog was a conversation we had in a Napa tasting room with a host. He was listening to us discuss wine with each other when he asked us, "Are you in the business?". We didn't know what he was talking about.  He clarified and said, "You two sound like wine writers!". We laughed, shaking our heads but it gave us the idea.
After months of mulling the idea over we just couldn't find a name. Everything we thought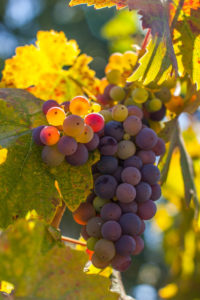 of was already taken. Finally we were discussing the idea with a writer friend as we dined on the Napa Valley Wine Train, and he said, "Napa Food and Vine!". That was it, and our blog was born. 
We had no plan, I think we were envisioning writing one post a month. We had no clue what we were getting into or all of the work that was going into writing and publishing a blog. At first, we were writing many posts because we were trying to create content. We were trying to find our voices and neither of us had written anything in years. After only a couple of months, we were "discovered" by PR agents in Napa and started getting invited to visit wineries and attend cool wine events. 
Two years later

 and our blog is thriving. We recently changed our name to Wine Travel Eats so that we could talk about wines and food beyond the limits of Napa Valley. We have been accepted into the wine community and have made many friends along the way. We even have a new article about Rosé wines coming out in Amaré Magazine this month! Writing about wine, food, and travel is now my full-time job and I am loving it. Finding my passion and sharing it with my husband has opened doors that I had never even knew were there.
It's funny, if anyone would have told me I'd be writing about wine a few years ago, I would have laughed. Who knew that my passion for wine, food, and travel would lead me here? I sure didn't.