This month, the #WinePW crew is adventuring into the realm of saké and Asian food pairing. The event is being hosted by Camilla Mann of Culinary Adventures with Camilla. Those who know me, know that I although I am rather adventurous in what I'm willing to do; rock climb, zip line etc. I am the complete opposite of that when it comes to food. 
With that being said, I have tried saké, and it just was not my cup of tea. The flavor is just not to my palate's liking. I did write a post about saké if you would like to learn the basics. Thankfully, Camilla gave those like me an out for the pairing event by titling the event, "Saké & Other Pairings for Asian Food." 
I am sure I am not alone when I know I am going to have Asian food, my wine pairing mind gravitates to Riesling. I honestly think they go together as well as peanut butter and jelly! There are many versions of Riesling, from sweet to bone-dry and each have their own place on a pairing menu, but thanks to its ability to provide sweetness and acidity, in my opinion, Riesling is the winner for Asian meal pairings. (Gewürztraminers being a very close second) 
So why does Riesling take the belt when it comes to pairing wine with Asian food? Generally speaking, Asian food has some heat to it. A wine that is high in alcohol will only intensify that heat. Want to test that theory out? Take a bite of a spicy dish and then a sip of a warm- climate Zinfandel.  (Just be prepared with a glass of milk nearby to cool down those scoville units.) Additionally, the low tannins in white wine do not battle with the spice in the dish, while the high acidity provides a refreshing splash on your palate. Riesling is like a chameleon, whether your dish is  spicy, sweet, fatty, or tangy, Riesling has the answer. 
As I mentioned, Rieslings run the gamut, when it comes to styles. In Germany, they classify their Riesling by sweetness level AT HARVEST. When you look at a label, it tells you what type of wine is inside the bottle. If you see the term trocken on the label, it means dry and I remember the sweetness levels with the mnem

onic  Kelly Speaks About Beer Every Time. (Kabinett, Spätlese, Auslese, Beernauslese, Eiswein, Trockenbeerenauslese)In America, it is not as easy to determine the sweetness level. Some wineries are using the International Riesling Scale. But not all wineries do, so another little trick I use is look at the alcohol content. Since yeast produce alcohol as a by-product of fermentation, we can deduce that if a wine has more alcohol in it, there will be less sugar. So, if you see a Riesling that has an ABV of 10% you can be pretty confident that it is a sweeter wine than the bottle next to it that has an ABV of 13%. 
One of my favorite Rieslings is from Smith Madrone Vineyards in St. Helena, CA.  I remember the first time I tasted it. I actually stopped and stared at my glass. Not sure what I thought the glass going to do, but I just stared at the wine and the only word that came out was, "WOW!" I took another sip, and called for my husband. I told him, "You have to taste this!" And we have been fans ever since. To me, it is like having accessibility to Alsace right here in California. 
In May 1971, with a partnership of family and friends, Stuart Smith bought the 'terroir' which today is Smith-Madrone Vineyards & Winery. At the age of  22 armed with a B.A. in Economics from UC Berkeley on his way to a Master's in Viticulture at UC Davis he sought land to plant a vineyard in the Napa Valley, and found the highest part of Spring Mountain and hasn't looked back since. Stu is one of the most respected individuals in the wine industry and his breadth of knowledge and passion are incredible! (not to mention the wines are exceptional!) If you are interested in hearing more about Stu and Smith Madrone, please listen to my podcast. 
I paired the 2015 Smith Madrone Riesling with a knockoff recipe for California Pizza Kitchen's Kung Pao Spaghetti 

CPK Knockoff Kung Pao Spaghetti
INGREDIENTS:

1 pound spaghetti
2 tablespoons vegetable oil
3 boneless, skinless thin-sliced chicken breasts
Kosher salt and freshly ground black pepper, to taste
4 cloves garlic, minced
1/2 cup unsalted cashew halves (original recipe uses peanuts)
2 green onions, thinly sliced
FOR THE SAUCE
1/2 cup reduced sodium soy sauce
1/2 cup chicken broth
1/2 cup dry sherry
2 tablespoons red chili paste with garlic, or more, to taste
1/4 cup sugar
2 tablespoons red wine vinegar
2 tablespoons cornstarch
1 tablespoon sesame oil
DIRECTIONS:
1- In a small bowl, whisk together soy sauce, chicken broth, dry sherry, red chili paste, sugar, red wine vinegar, cornstarch and sesame oil; set aside.
2- In a large pot of boiling salted water, cook pasta according to package instructions; drain well.
3- Heat vegetable oil in a large skillet over medium high heat. Season chicken breasts with salt and pepper, to taste. 4- Add to skillet and cook, flipping once, until cooked through, about 3-4 minutes per side. Let cool before dicing into bite-size pieces; set aside.
5- Add garlic to the skillet and cook, stirring constantly, until fragrant, about 1 minute. Stir in soy sauce mixture and bring to a boil; reduce heat and simmer until thickened, about 1-2 minutes. Stir in pasta, chicken, peanuts and green onions.
Serve immediately.
recipe from Damn Delicious
The pairing, as predicted was spot on. There was a little bit of heat in the dish (I would have liked a bit more), but the acidity of the wine cut through it easily and with each sip refreshed my palate for another bite. This wine also breaks the myth that Riesling is meant to be drunk young. Although I had this wine before and it tasted wonderful, this 2015 was tasting ideal now and will be in its prime for years to come.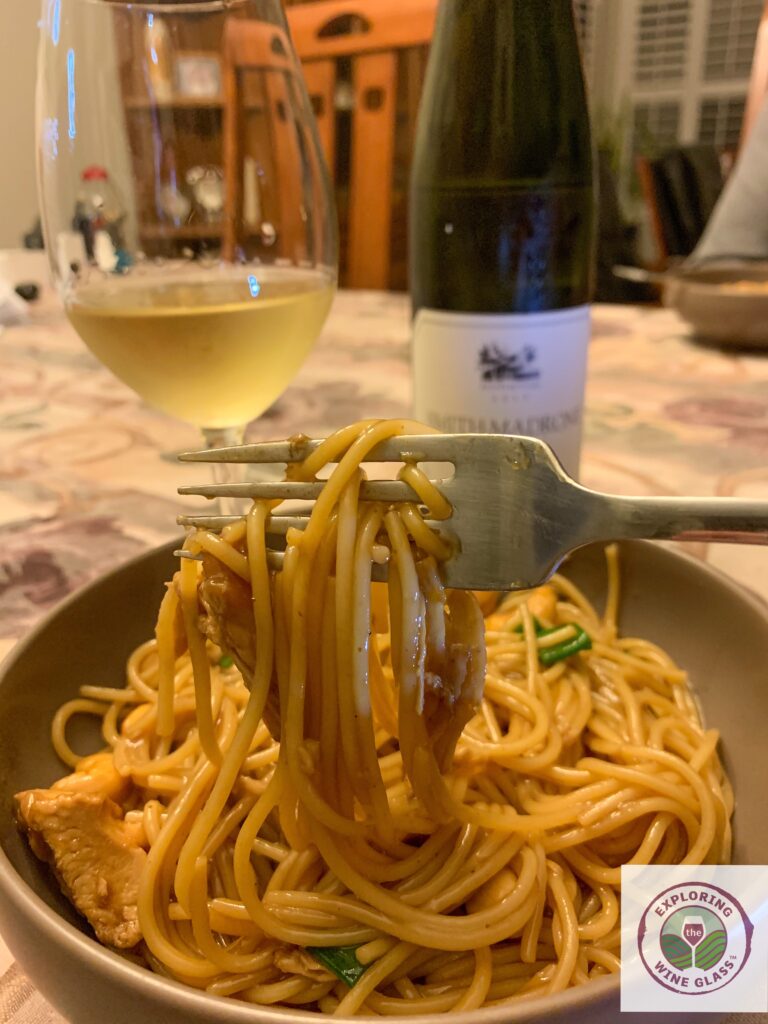 ? pale lemon; just a hint of gold
?? pronounced white peach, petrol
? dry, high acidity, low alcohol, medium body, medium flavors floral, nectarine, petrol and peach, long finish
? dry farmed, volcanic clay loam soils, SRP: $32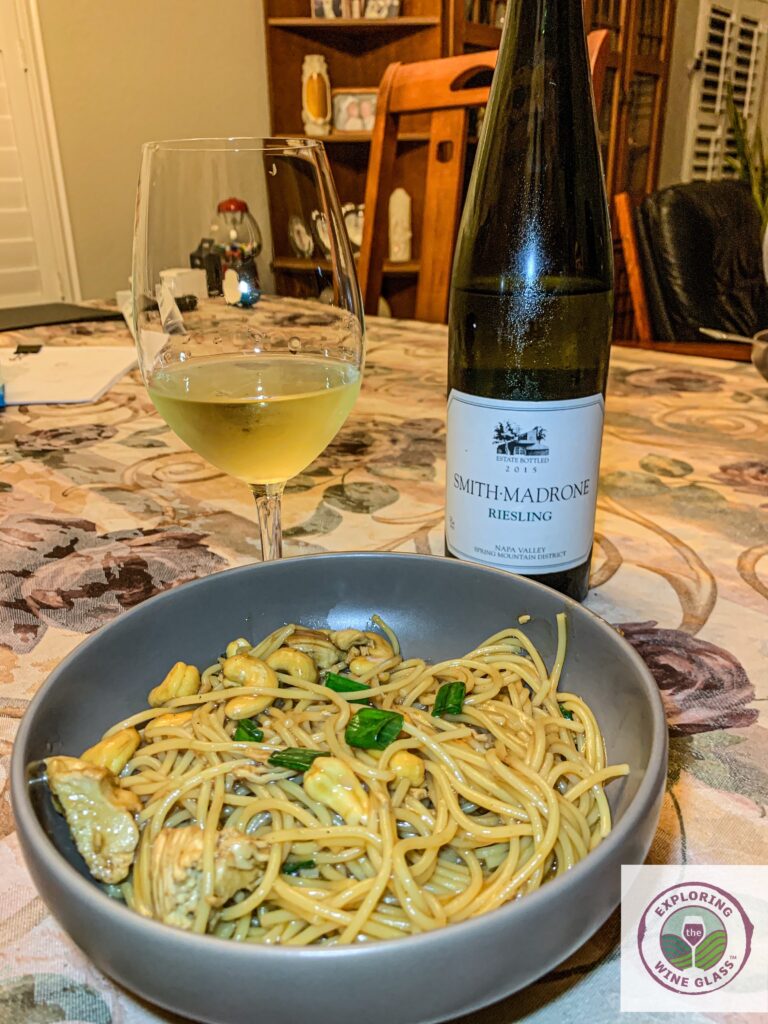 Join us this Saturday, January 9th, 2020 for a chat about pairing Asian Food with saké and other wine suggestions at 8am PST on Twitter. I guarantee you will find some incredible recipes to try!
~Slainte!