Rattle ya dags! I'm here to officially invite you to August's #winePW chat. In case the introductory sentence didn't give it away, we are heading to New Zealand this month, and that sentence is slang for  "hurry up!" Those Kiwis have some interesting sayings, but this one takes the cake for being one of the most disgusting ones! Since a "dag" is the part of fleece around a sheep's butt that are usually caked in poo. As a sheep runs, this area shakes or "rattles." Gross isn't it? But the saying is appropriate for this post. 
On August 10th, our Wine Pairing Weekend blogging group will be meeting up on Twitter at 8am PT/11am ET to discuss New Zealand wines. So you only have a couple of weeks to grab yourself a bottle of New Zealand wine, choose a recipe and join in the fun. 
Long ago, even before Christopher Columbus sailed the ocean blue, Maori people traveled across the Pacific Ocean and inhabited Aotearoa, New Zealand. There culture is still an integral part of today's identity of New Zealand. They adore the outdoors (who wouldn't living in that beautiful landscape?) and are rather adventurous! They did invent the bungy jump! 
But, they also love their wine! The New Zealand Wine Growers have joined forces to "protect and enhance the reputation of NZ wine and to support the sustainable diversified value growth of NZ wine." Their wine region extends 1,600km (1,000 miles) and with all their vineyards being no more than 120 km (80 miles) from the ocean experience a maritime climate.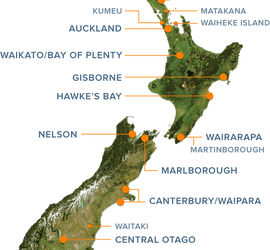 How to join us:
Send an email to tell me you're in: Include blog url, Twitter handle,  and any other social media details. If you know your blog post title, include that…but you can also send that a bit closer to the event. You can contact me at [email protected]
Find a bottle of New Zealand wine and pair it with a meal you choose. Write up your experience and get ready to post and share. But don't post it yet!

Send your post title to me by Monday, August 5th to be included in the preview post. I will prepare a preview post shortly after getting the titles, linking to your blogs. Your title should include "#WinePW"
Publish your post between Friday August 9th and 8:00 a.m. EDT and Saturday, August 10th. You can always schedule your post in advance if you will be tied up that morning.
Include links to the other #WinePW participants in your post, and a description of what the event is about. I'll provide the HTML code that you can easily put in your initial post — which will link to people's general blog url
Once all the posts are live, I'll send updated code so you can update the permanent links to everyone's #WinePW posts.
Get social! After the posts go live, please visit your fellow bloggers posts' to comment and share. We have a Facebook group for participating bloggers to connect and share, too.
Sponsored posts are OK if clearly disclosed. Please be sure to disclose if your post is sponsored or if you are describing wine or other products for which you have received a free sample.
~Sláinte! 
Please follow me on Instagram, Twitter, and Facebook. You can also find me on YouTube and if you are interested in wine pairings, follow my other blog, Wine Pairing with Dracaena Wines. And don't forget about my FREE wine education series, Winephabet Street. Sláinte!
Please Visit our Sponsors by clicking on the banners: