That's right! Today is #MalbecWorldDay! If you are anything like me, you have a stash of Malbec somewhere in your home, but if not, there is still plenty of time for you find a bottle (or two) in order to celebrate tonight!
Most known in the Cahors region of south-west France, it has taken on a resurgence in Argentina and they are the backbone of this wine holiday. I love holidays that have a reason behind the day they are celebrated. Which is why, when I created #CabFrancDay, it was not just a random day. The same holds true for Malbec World Day.
On April 17th, 1853  the President of Argentina took it upon himself to transform the wine industry in his country.  Under direction of the President, Michel Aimé Pouget, a French soil expert, brought new vines to Argentina. Along with other French varietals,  he chose Malbec. For the following years, Pouget experimented with adapting the French varietals to the terroirs found in Argentina. It was ten years later, when France underwent the Phylloxera plague, (you can read about that here) that Malbec began to flourish and was recognized as producing superior wines.
Malbec, also known as Côt in the Loire Valley and Pressac in Libournais, is a thin-skinned black  grape that has extreme sun requirements and is sensitive to frost.  In Northern Burgundy it was known as Auxerrois, until the growers' success in Argentina led the charge in the adoption of its new name. It ripens early and is most often thought of as a blending grape thanks to its dark red color and high tannin structure. When added to a wine, it adds dark fruit flavors and a smoky finish. It is one of the six grape varieties allowed in a Bordeaux blend. 
Malbec, Argentina's most widely planted grape variety is planted on over 76,000 acres and accounts for 16% of all plantings. In the glass you can expect a deep purple, fruit driven wine with ample alcohol, body and structure. It often sees oak aging. You can also find a large percentage of plantings in Chile which has seen an upswing recently. Wines produced there tend to be more tannic than its Argentinian counterpart.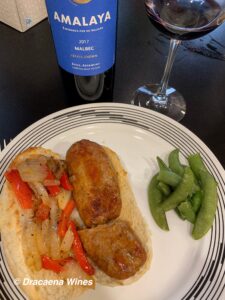 Bodega Amalaya Malbec (SRP: $16)
When you think high altitude wines, you should have Bodega Amalaya in mind. The vineyards are located at  5,900 ft above sea level in the Calchaqul Valley which is in the Northwestern portion of Argentina. With its rocky and sandy soils, as well as the limited rainfall, the vines struggle to find hydration.
The wine is 85% Malbec, 10% Tannat and 5% Petite Verdot and aged in 25% French oak for 8 months. Medium ruby in color. Medium aromas of chocolate raspberry, violet and the with spice that you expect from Malbec. On the palate, you will find light tannins, medium acidity and medium body. A little lighter than you would expect, but not disappointing. Flavors of vanillin, and a continuation of the red fruit aromas. 
2016 Colomé Estate Malbec (SRP: $25)
The wine is a blend of four estate vineyards. The largest percentage (65%) hails from Colomé vineyard that sits at 7545 feet above sea level. Twenty-five percent of the fruit is from El Arenal vineyard at 8858 feet above sea level and the remaining 10% is equally distributed between the La Brava (5577 feet above sea level)  and Altura Máxima, the highest vineyard in the world that sits at an unimaginable 10,266 feet. 
A 100% varietal Malbec, this wine was aged in French oak for 15 months and an additional six months in bottle prior to release. It poured deep purple in color with a pronounced floral and black cherry aromas. On the palate, oh baby be ready; the wine is dry with high acidity and silky but high tannins. There is a slight alcohol sensation that dissipates quickly to express black cherry, milk chocolate and white pepper that leads to the medium (+) finish. 
2017 Colomé Auténtico Malbec (SRP: $30.00)
Similar to the Estate Malbec, the Auténtico is also a 100% varietal Malbec, but this wine saw no oak aging. In honor of the original vineyard growers of 1831, and to allow the fruit to be its most "authentic," the fruit is grown using sustainable practices and was aged in tank for 10 months and then an additional 10 months in bottle. Sitting at 7545 feet above sea level, the grapes develop a thicker skin and develops powerful fruit expressions. 
Deep purple in the glass, the combination of both dark and red fruits along with a hint of old world minerality.  On the palate, baking spice, blackberries and spice. 
Both Bodega Amalaya and Bodega Colomé are part of the Hess Collection. Donald Hess' extension of his Napa based winery began when he acquired Bodega Colomé in 2001. Located in Cafayate, a small town located in the Salta province of Argentina, you will find the oldest working winery in Argentina and one of the highest planted vineyard sites in the world. Sitting at an incredible 5,522 feet above sea level the winery was founded in 1831, by the Spanish governor of Salta, Nicolás Severo de Isasmendi and Echalar. Malbec and Cabernet Sauvignon vines were planted by his daughter in 1854 and three vineyards are still producing wine today. After remaining in the family for 170 years, Bodega Colome was purchased by Hess. 
Bodega Amalaya, also located in Salta, Argentina,  was created when Bodega Colomé was looking to find additional fruit for Malbec and Torrontés. This desire, led Donald Hess to travel to different wine regions. When he happened upon Amalaya, where there wasn't a single vine planted, he was inspired.  Amalaya means "Hope for a Miracle." 
Altitude not only has an effect on the climate, but also on soil composition. Generally speaking, higher altitude vineyards have lower nutrients with rockier soils, but better drainage. These characteristics provide a stressful environment for the vines which lead to smaller berries with thicker skins. The thicker skins provide for a more tannic wine and a more flavorsome profile. 
So go ahead. I give you  permission to sneak out of work early, grab a bottle of your favorite Malbec, or better yet, one of these, and do a little dance, make a little love and get down with a bottle of Malbec tonight. As an added bonus, Bodega Amalaya has suggested this ideal pairing:
Rib Eye
INGREDIENTS:
36 oz. rib eye on the bone
2 large tomatoes
1 bunch flat leaf parsley
6 basil leaves
3 oregano bunches
4 crushed garlic cloves
3 tablespoons white vinegar
6 tablespoons olive oil
1 tablespoon ground chili
salt and pepper
INSTRUCTIONS:
1- Prepare the Chimichurri
Remove seeds from the tomatoes and dice. Chop parsley, basil and oregano. Mix diced tomatoes with herbs, garlic, ground chili, salt, pepper, olive oil and vinegar.
2- Prepare the Rib Eye
Before marinating, score the fat on the ribeye. Marinate the meat in the chimicurri sauce for two hours.
Light and heat the charcoal grill (can use gas grill) Season the steak with salt and pepper. Directly on the flame (or on high heat) sear ribeye on all sides for approximately 5 minutes. Move steak off direct flame to warm area of grill (or turn flame to medium) Cook until meat reaches internal temperature of 125F for about 30 minutes.
During the cooking, turn steak periodically, and brush with a bouquet of rosemary and the chimichurri sauce.
Remove from heat and let meat rest 20 minutes.
3- Serve
Be sure to tag us on IG and twitter to let us know what you are opening. Happy Malbec World Day! 
~Sláinte! 
Thank you to Hess Collection and Donna White Communications for providing the samples.