Paso Robles is now the home of over 250 wineries. It seems like every day there are new wineries opening which only means one thing. Time to get on the road and do some exploring. According to Paso Robles Wine Country there are nine different trails that you can tour. Today, we chose to delve into the Creston Wine Trail.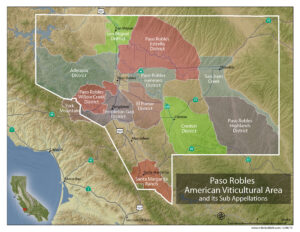 The Creston Wine Trail is composed of six wineries and one olive oil house. The trail is located on the south-east side of Paso Robles and is its own AVA. Today's tasting was a very different situation for us.  We normally just drive ourselves around pop in and out of places and go on to the next one. But today we met with some friends who live in Paso Robles and happen to own Chariot Wine Tours. 
Talk about traveling in luxury. The limousine can fit eight people easily,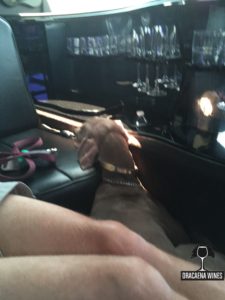 but today our driver, Laura had just six. Technically four humans and two four-legged fur babies. Vegas was in all his glory riding around in limo. He had a blast the entire trip. I think he has settled into being a winery dog very easily.  He became the professional greeter at each of the wineries we went to.  
Bella Luna Wines
The first winery we stopped at was Bella Luna Wines (technically not on the Creston Trail but in Templeton). Upon entering we were greeted by Kevin Healy the owner.  Vegas immediately made a friend and went behind the counter with Kevin. Then we were introduced to Jimmy and Shelly Zanoli. Jimmy is the winemaker and Shelly is the sales and marketing director. They also have their own label [Zanoli.] 
As we were sampling the exceptional wines Shelly told us the story behind the winery. The website tells this story:
Bella Luna Winery started some 38 years ago in the hearts and minds of its founders, Kevin Healey and Sherman Smoot. Kevin had just returned from honorably serving his country in Vietnam and Sherman was training as a Navy fighter pilot preparing to do the same. Having grown up together as best friends in the Paso Robles AVA, they shared a passion for wine.
All the wines are dry farmed and see native yeast fermentation. The
wines we sampled included:
2015 "Bella Bianco" SRP: $30
2012 "Estate Riserva" : SRP: $48
2012 Sangiovese Grosso: SRP: $45
2011 Tempranillo: SRP: $35
2012 "Lot One" Barbera: SRP: $42
2014 Fighter Pilot Red: SRP: $38
2015 Zanoli Chenin Blanc: SRP: $28
We enjoyed all the wines but what really caught our tastebuds was the Tempranillo.  We purchased a couple of bottles and before we knew it, they were swept away from the counter by our wonderful driver and stored in the limo.  We walked away and entered the limo on our way to the next winery. 
B and E Vineyards
Up next was a winery that we had visited previously.  The view from this vineyard is absolutely stunning. There is a horse farm along with some sheep and a rustic barn to taste in.  B and E is family owned and operated.  The owner competes in rodeos across the country and is still taking home ribbons. 
A tribute to California's cowboy heritage, B&E winery continues the traditions of horses, cattle, and farming. Doc Elliott (the "E" in B&E) started a racing horse operation of running quarter horses in 1952 and throughout the years produced several world champions. In 1969, the family joined by the "B" (Bello) expanded into farming alfalfa and oat hay production, along with Registered Quarter Horses and Registered Cattle.
We sat outside under the covered patio and sampled several wines.
2013 Merlot: SRP: $32
2012 Red Rhythm Blend: SRP: $32
2012 Cabernet Sauvignon: SRP: $32
2013 Cabernet Sauvignon: SRP: $32
Shadow Run Vineyards
Back into the limo for a short drive up the road to Shadow Run Vineyards. What a beautiful winery. They have two sitting areas plus their inside tasting room.  We chose to sit under an oak tree and were greeted immediately by the owner.  He came out and began pouring.
2015 Grenache Viognier: SRP: $24 (Fair Haired Child)
2013 Viognier: SRP: $21
2015 Rosé: SRP: $24
2013 Malbec: SRP: $28
2012 Syrah: SRP: $28
Petite Sirah: 2010, 2011, 2012 SRPL $32
While we were enjoying the wines and conversation, our driver handed us each a "boxed lunch." This meal was far from a typical boxed meal you would get.  Inside the box was an almond and goat cheese sandwich with peach dressing.  We also had a diced turkey wrap with lettuce, carrots and coriander.  There was other seasonings that I am so upset that I can't remember what they were. But what really makes me even angrier is that I did not take a picture of this lunch box before devouring the entire meal.  For dessert we each had two adorably tiny peaches picked freshly from John's peach tree. 
Here's the thing with Chariot Wine Tours. Not only do they plan your trip for you, but you can choose to have it catered.  John is a master chef. He performs miracles with food. He owns Farmstead Catering Company in Paso Robles. He is a full-service Wine Country caterer serving Paso Robles, Templeton, Atascadero, San Luis Obispo, Cambria, and all of the Central coast. He uses all locally sourced ingredients and you can find him catering many of the wineries pick up parties.  And to top it off he has a traveling pizza oven! He can come to you and make a massive amount of pizza. That, my friends, is one heck of a way to show your friends you care!
We enjoyed each and every wine. We walked away with a couple of bottles of the Fair Haired Child and a 2010 Petite Sirah. Once again our purchased bottles disappeared miraculously and were placed in the awaiting air-conditioned limo.  
Chateau Margene
Michael & Margene Mooney began the fulfillment of their dream to plant a vineyard, build a winery and establish their home.  The family took up residence on the property in the Summer of 1998 and planted the 5.5 acre estate vineyard in the Fall of 1998.  Chateau Margene's first wine was their 1997 Cabernet Sauvignon, with grapes sourced from a vineyard in Paso Robles' west side Templeton Gap area and another vineyard off Airport Road in east Paso Robles.
We entered the winery and were greeted by Tess, a rather large white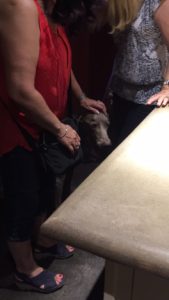 Pyrenees. Vegas may have been upset for a brief moment as he realized his new career of winery greeter may already be taken by another here.  But he lucked out since Tess decided to stay outside and Vegas very happily entered the tasting room that looks directly into the barrel room. He immediately helped himself to behind the counter with Michael and then decided to get some loving from the customers. 
Knowing that Vegas was in good hands (he had quite a crowd giving him attention and taking pictures with him) we settled in for our tasting.
Pinot Sparkling: SRP: $30
2011 CIELO ROSSO (65% Sangiovese, 22% Cabernet Franc, 13% Merlot) SRP: $52
2013 Cabernet Sauvignon: SRP: $64
2014 SLH Pinot Noir: SRP: $68
2013 Mourvèdre: SRP: $74
2011 El Pistolero Meritage 1.5L Pouch: SRP: $44
2013 Cask 4 Cabernet Sauvignon: SRP: $96
We spent quite some time here and enjoyed every minute.  Micheal is a wonderful host and he gave each of his customers (of which he was swamped for most of the time) the time and courtesy they each deserved.  As we sampled and talked, our ever wonderful limo driver took pictures so that we could all remember the fun. In the end, I wanted to grab a few bottles of the sparkling, but Mike just really isn't a fan, so I lost out. (if you can call it that) We ended up walking away with a couple of bottles of the SLH Pinot. Which by the way, we came home and Mike opened up Wine Spectator and discovered that it had received 93 points! 
Can't Ask for A Better Day
Overall, I couldn't have asked for a better day. First off, the weather was perfect. We had left 104 in Fresno to be greeted by 85 in Paso. Then we were able to spend a full day with friends doing what we all enjoy. Drinking wine and eating local food.  Mike and I love Paso Robles. That is why we decided to open our winery there. The people, the location, the food, everything is perfect in Paso. (hey, maybe that can be their new slogan after "Discover the Pasobilities!")
So on your next trip out to Paso, why don't you head on over to the Creston Trail and while you are at it give Chariot Wine Tours a call to make it an even better day. There is no words to describe how I feel about Chariot Wine Tours. I would recommend them with all of my heart. This is the way to see Paso. They take care of their customers from start to finish and make sure that your time in our little neck of the woods is as perfect as it can be.  So if you are planning a visit, be sure to check them out. I don't think you will be sorry. Just take a look at their reviews on Trip Advisor. I am not the only one who thinks they are fantastic.  
Disclosure of Material Connection:  I am personal friends with Nancy and John McDevitt. The day was all about friends getting together and enjoying the Paso Robles wineries. I was not required to write a positive review, nor was I asked to write any review and the opinions I have expressed are entirely my own.