Fàilte! Welcome to the next installment of Exploring the Wine Glass. Mike and I are big proponents of you should drink what you like and you are the only one who can taste like you. We advocate the fact that everyone experiences the wine differently, so in these posts we do not discuss our tasting notes.  Instead we include basic information about each of the wineries, and/or a bit about what was happening in our lives while we were enjoying them.
Want to know what we think of the wines? Do you want a little insight into our palates? Then head over to Delectable and check us out. We tell it as we taste it over there. Click here to see the chart we use to describe the color. A video of them as they are poured is found at the end of the post. Visit our YouTube Channel to see other wine videos. As always, since as oenophiles we love to celebrate #WineWednesday, our week runs from one Wednesday to the next.
Summer Zipping By
I can not believe it is the second week of August already. This summer is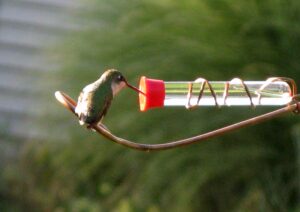 zipping by as quickly as hummingbirds flap their wings. (I'm sitting watching two drink the sugar water outside my door with fervor.)
I always start to get a bit depressed when August arrives. For teachers, the summer is similar to a seesaw. The month of July you are on the side that is rising. You are happy. You are relaxing and you are going up, up, up where the sky is the limit. August 1st is equivalent to the height of the fulcrum. It has done all that it can for you, and its time for you to start returning to the ground. The fun, effortless part of the ride is over and you can see the end is approaching. 
Lots of Corks Opened
Although I typically write this as a biweekly post, this one was a month in the making. So sit back and be ready to scroll, There is quite a bit of wineporn here! 
J. Lohr Gesture Viognier
Fruit for this wine comes from Gean Vineyard in the Adelaida District which is located on the west side of Paso Robles. This western most vineyard in the Paso Robles AVA is relatively a young, planted in just 2010. Viognier, being a Rhone varietal, loves this climate and calcareous shale and sandstone soils. The changes in daytime and nighttime temperatures allow for full ripening and long hang time. 
We paired this the 2016 J. Lohr Viognier with a simple to make meal of Garlic Parmesan Pasta. 
Cayuse En Cerise Syrah
This wine which has received a 98 in The Wine Advocate and 95 points in Wine Spectator is one for the memory banks! Once you taste it, you are never going to forget it. En Cerise in French, means cherry and is a perfect name for this site. The vineyard, planted in 1988, was a cherry orchard prior to being given its new life. 
"Cayuse is no longer a secret and it may be America's toughest mailing list to crack….but do whatever it takes to get your hands on a few of these gems."

—Jay Miller, The Wine Advocate
We happened upon Christophe by sheer chance years ago when we were visiting Walla Walla. When we signed up for his list, not really sure why we were agreeing to pay for wine we wouldn't receive for over a year, but we did and are we oh so glad we did! We paired the 2007 Cayuse En Cerise Syrah with take out Mexican food from a local restaurant.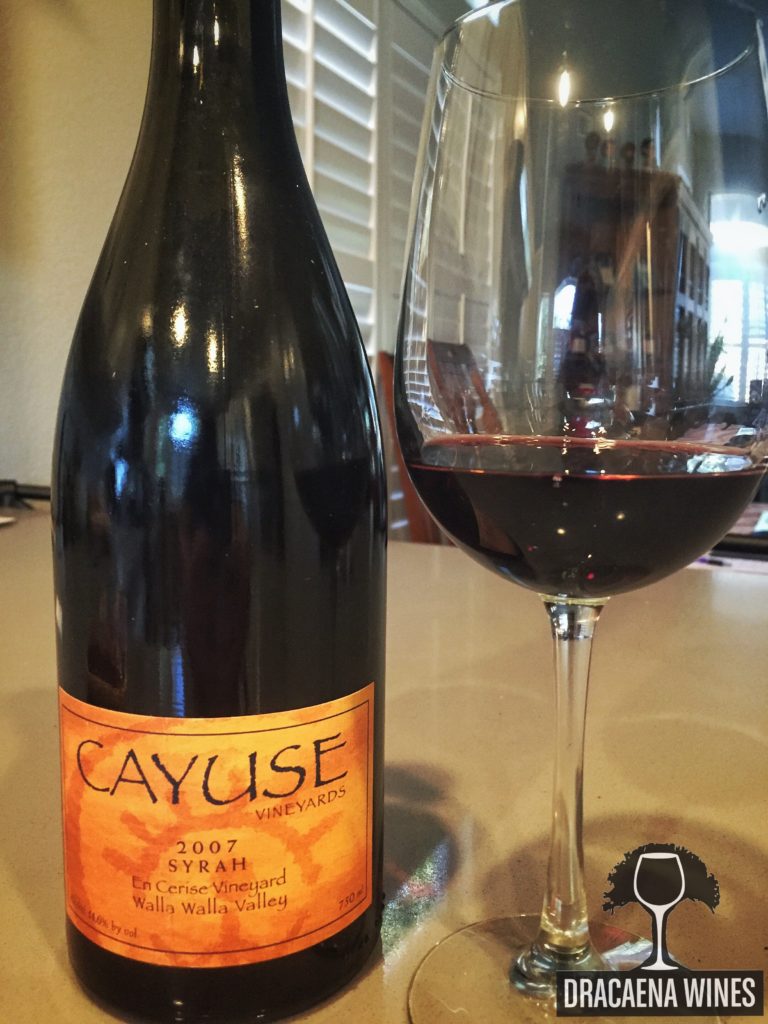 Ancient Peaks Zinfandel
The Zinfandel fruit hails from the Margarita Vineyard which is the southernmost vineyard in the Paso Robles region. Located just 14 miles from the Pacific Ocean and nestled below the Santa Lucia Mountains,the fruit see one of the most coolest climates in the region. The winery is actually a collaboration between three families-the Filipponis, Rossis and Wittstroms. In 1999, the three families maintained ownership of Margarita Ranch when the Robert Mondavi family planted Margarita Vineyard on the ranch under a lease agreement. In 2005, the three families acquired ownership and control of Margarita Vineyard. 
We paired the 2012 Ancient Peaks Zinfandel with homemade pizza. 
MacRostie Russian River Valley Pinot Noir
MacRostie Winery, located on the Sonoma Coast, specializes in Chardonnay and Pinot Noir. In addition to having several of their own vineyard sites; Wildcat Mountain and Thales vineyards, Dutton Ranch and Goldrock Ridge, they also source fruit from some of the biggest names in vineyard management. The MacRostie brand was created in 1987 and works with more than 30 Chardonnay vineyards and over 15 Pinot Noir sites. 
Fruit for this vintage came from  Dutton's Hallberg Ranch and Mirabel Vineyard off of River Road and a small plot called Hogan's Run. We paired the 2012 Russian River Valley Pinot Noir with grilled veggies and homemade pesto sauce. We got the veggies and the bread from our local farmer's market. That is by far one of the best perks about living in CA- I love farmer's markets! (I know the pesto is a bit dark- it had a lot of pesto and we ran out of parmesan! but it still was yummy!)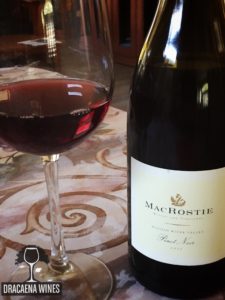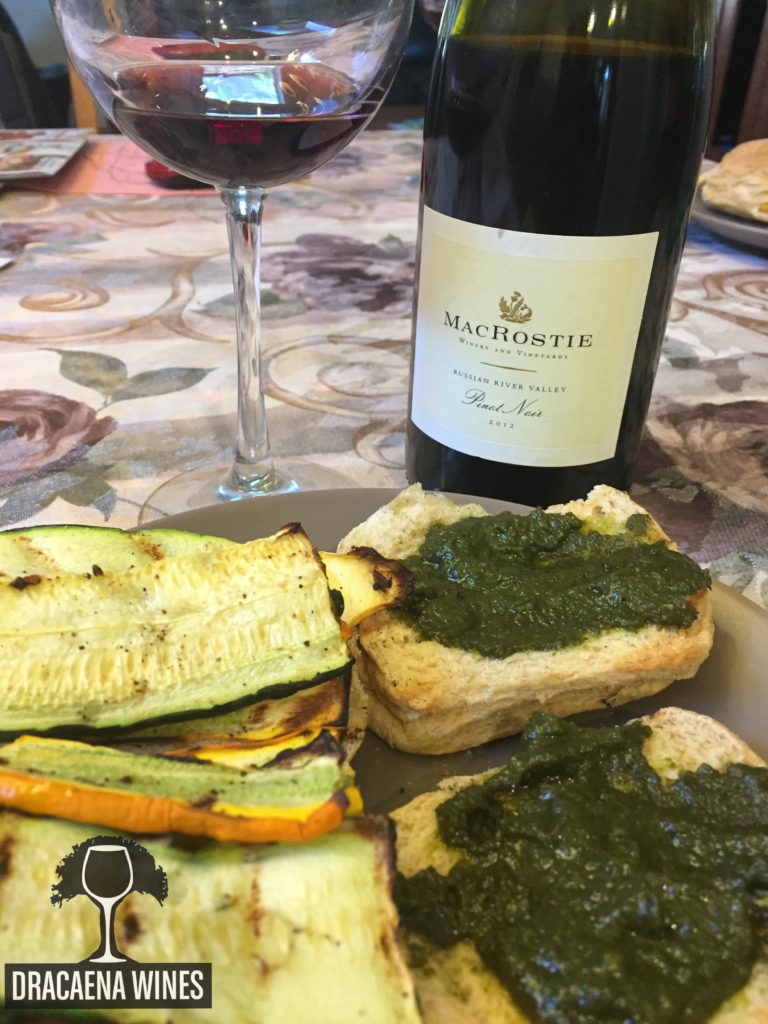 Imagery Grenache
Do you ever just get in the mood for a specific wine variety? Well, I wanted a Grenache and Imagery is one of our favorites! In addition to loving the wines, anytime you can add a little game to drinking, I'm all for it. From their website:
Imagery's label art has a real "Where's Waldo" feel to it. Sometimes the Parthenon is smack dab in the center of the art piece, while other times it's nested so deeply that it takes six hawks to find it. It's all part of the charm and whimsy of Imagery – exactly how Joe wanted it to be.
Make sure to look for it on your next great bottle of Imagery wine.
Winemaking is a combination of art and science, so it makes complete sense that art and wine are a perfect pairing. Art is an invaluable aspect to Imagery's wine tasting experience. They incorporate unique artwork on every label, and have a dedicated on-site art gallery. The entire collection has over 500 artworks by over 300 artists and there are currently, around 60 pieces in the gallery. They commission artists, without a deadline, to create the future labels. There are no guidelines or limitations to what they can create, just one stipulation; the work must include a likeness of the Parthenon (or section there of) replica on the Benziger Estate, which serves as the winery's signature. Some are easy to find, while others are more difficult, sometimes frustrating! I have been known to call Imagery and ask where the heck it is, because I can't let it go!
We paired the 2013 Imagery Grenache with homemade Southwestern Chimichangas. Although they are a bit time consuming to make, they are super simple and worth the time. In case you were curious, I found the Parthenon pretty easily on this one, no need to call Imagery in hysterics! Go ahead, click on the picture to enlarge it and find the Parthenon. You know you want to!
Halter Ranch Syrah
We return back to Paso for our next wine and back to homemade pizza for our meal. If you read this blog on any regular basis, you will see pizza A LOT! We are both maniacs for it and prefer homemade over store bought, especially since moving to CA. Nothing beats NJ/NY pizza, there is just something about it. Same with bagels. (They say it's the water.)
Halter Ranch is a winery with a plethora of history. A New Jersey born butcher living in San Francisco, named Edwin Smith, moved to Paso Robles in 1874 and purchased land in 1881. He built a grand Victorian farmhouse on the property. He raised livestock, farmed produce, and invested in silver mining. 
After his mansion burned down in 1885, loving where he lived, he immediately built another one. Unfortunately, in the early 1900s his "empire" came crashing down. The property was broken up and in 1943, 1200 acres were purchased by the MacGillivray family, who introduced the first grapevines in 1996. Smith's farmhouse still stands on the property and is a Paso Robles landmark. 
It was a Sunday, so that means we paired the 2012 Halter Ranch Syrah with pizza on the grill. 
Laird Big Ranch Sauvignon Blanc
Not too long ago, actually just a couple of months ago, I discussed the relationship between Ken Laird and Robert Mondavi. You can read about this investment opportunity here. Big Ranch Vineyard, located in the Oak Knoll Appellation, is named after the nearby road of the same name, which is located just around the corner from the winery. The 100% Sauvignon Blanc wine saw 100% stainless steel fermentation. 
Mike and I are the rarity in the wine world, not being overly adventurous on the meal front. Mike would probably eat more things if it weren't for me, but he seems to be just as happy sticking to the simple things in the food world. We know what we like and we pretty much stick to our basics. Grilled veggies during the summer is just that! Even more so, it is typically our Wednesday meal of choice. We go to the farmer's market on Tuesday night to pick up the fresh veggies and the bread and Wednesday meal is ready to go, just add the grill! 
Bionic Frog
Oh I love me some Bionic Frog! And this may be a first- two Cayuse wines in one post! But to be honest, Mike and I need to start drinking these wines more often.  We have an enormous amount of Cayuse. We get a case a year and we don't drink a bottle a month. Even if we did drink a bottle a month now, we couldn't catch up. Not that I am complaining, since having an overabundance of Cayuse is probably something most wine lovers would crave. 
If you are interested in the story behind the name and a bit more info on Christophe, please check out In Dracaena's Glass. I think Jay Miller of The Wine Advocate clearly gets how great these wines are: 
"Imagine having to choose between your ideal fantasy sexual partner and this wine—and you choose The Frog! That's how good it is"
We paired this stunning 2008 Syrah with one of my favorite meals, peanut butter pasta.  I know, it sounds a little out there, but it is outstanding! It is similar to sesame noodles minus the sesame seeds and not as pasty.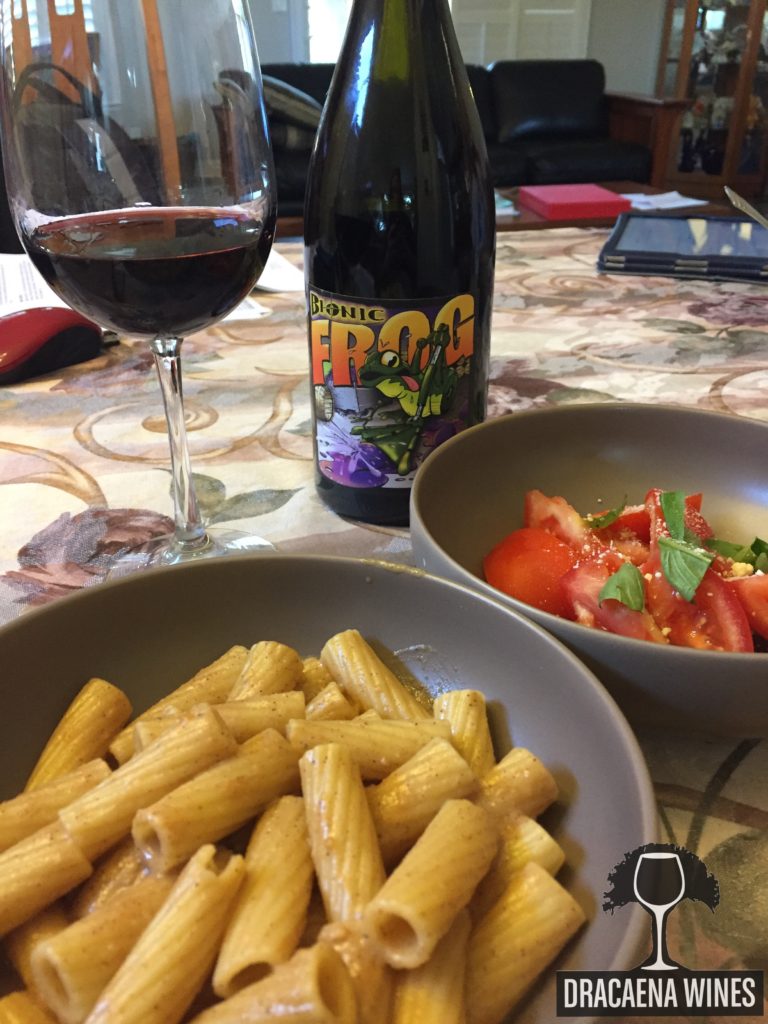 Robert Hall Viognier
Located on the east side of Paso Robles Robert Hall strives to nurture the land. Robert Hall, a Minnesotian native, lived in Arizona prior to moving to Paso Robles. Robert's love of wine began in the 1970s when a family vacation took him to the Rhone Valley. By the early 1980s, he was ready to pursue that passion and began visiting different wine regions to find the best one. He and Margaret found that location in the 1990s in the Paso Robles Appellation. The rich soils and the diurnal temperature shift drew them in and they purchased "Home Ranch" in 1995. Soon after, they obtained the Terrace and Bench vineyards. 
It has been over 100o here in Fresno for two weeks straight and there is no relief in sight. We were contemplating sitting in the back yard with a nice white patio sipper that needed no food accompaniment. We chose the 2016 Robert Hall Viognier. It was one that we didn't need food with, but we balked at sitting on the patio. At 8:30pm, it was 99o!
Tobin James Fat Boy Zinfandel
Six tons of grapes couldn't be processed at a winery that a young Tobin James worked at. As an assistant winemaker, he took a chance and spoke up, asking if he could process them himself. A year and a half later, and a few gold medals, the 1985 Blue Moon Zinfandel was a hit!
In 1993, he built Tobin James Cellars on the site of an old stagecoach stop. The winery, more like a saloon out of the old West, rather than a wine tasting room, pays homage to the area's Western heritage. The bar in the tasting room has its own bit of history. In fact, Jesse James use to "saddle up" for some drinks the actual bar. 
Being a Zinfandel, we wanted to make a meal that had some of its own kick, so we paired the 2011 Tobin James Fat Boy Zinfandel with cajun chicken and pasta.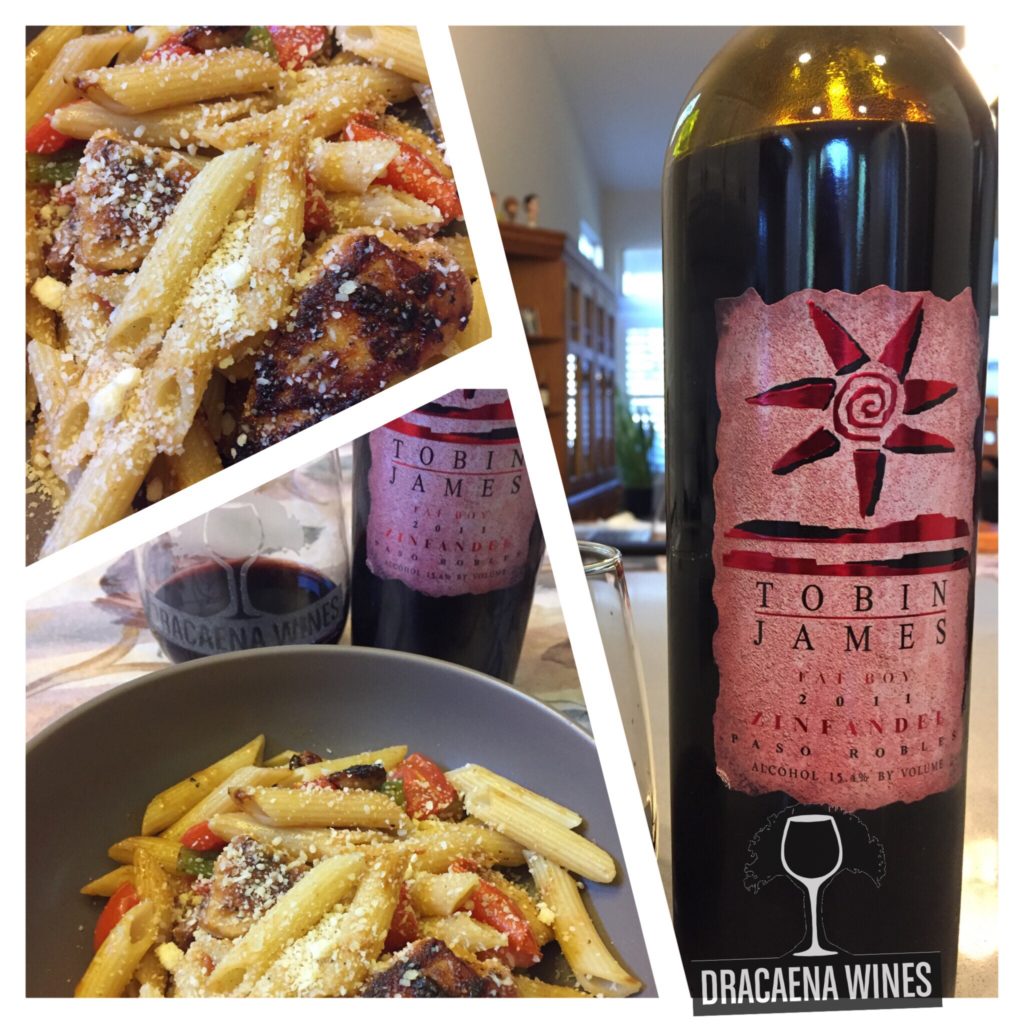 Hope you have had some great wines and times these past two weeks. Remember, always Pursue Your Passion. We would love for you to leave a comment telling us what your favorite recent wine was.
~Sláinte