Aquanet Generation
For decades we lived on this earth without any concern for the effects our existence had on it. I think back to my high
school days, in the 80s. Man, oh man, the hairspray that was used! I think hair back then defied the laws of physics!  Hairspray was such a mainstay, that there is a whole music genre named after it. 
In addition to the hair spray fiasco, there were aerosols in almost everything we used. Shaving cream, deodorant, spray paint all harming the environment we relied on to keep us safe and healthy. Invented in the 1920s, believe it or not, by the U.S. Department of Agriculture was created to help ward off malaria causing mosquitos during WWII. 
Somewhere in the late 80s, scientists began to realize what the excessive amount of Chloro Floro Carbons (CFCs) were doing to the ozone layer and thankfully began researching alternatives.  Two scientists in specific, Mario Molina and F. Sherwood Rowland, developed a study to determine what actually happens to the ozone layer when all those CFCs are released into the air. Their research ultimately won them a Nobel Prize and change how people viewed the environment allover the world.
After the findings were released, products stopped using the damaging CFCs initially through voluntary elimination, and later thanks to federal regulations. "The Clean Air Act (1970) is the law that defines EPA's responsibilities for protecting and improving the nation's air quality and the stratospheric ozone layer. The last major change in the law, the Clean Air Act Amendments of 1990, was enacted by Congress in 1990. Legislation passed since then has made several minor changes." (https://www.epa.gov/)
The air we breath is full of particles. These particles, that are put there either naturally or by us, accumulate. If you ever doubted their existence, just take a look outside at the haze. (Think Los Angeles) Think back to last year when we were all in complete lockdown. Just a few weeks of no one driving to work and the skies became blue again. 
"I don't really think we've seen anything like this," said Ryan Stauffer, a research scientist with NASA who uses satellite data to study air quality.  Last month, in the northeast, NASA observed a 30% drop in the air pollutant nitrogen dioxide compared to the same month in previous years.
The Creation of Earth Day
Before the Hair Metal bands and the cases of Aquanet purchased, some people understood that the earth needed to  not only be appreciated, but also protected. Leading the cause was Senator Gaylord Nelson of Wisconsin in 1970, who created Earth Day. Celebrated annually on April 22nd, it is a day to reflect upon how we are treating Mother Nature. The creation of the holiday led to Clean Air Act, the Endangered Species Act and ultimately led to the creation of the Environmental Protection Agency. 
Celebrate Earth Day with Wine
What does this all have to do with wine? A lot! Many wineries have recognized what chemicals can do to the vines they are growing and the soils they are growing in. They have decided to do something about it and have begun farming their lands organically. 
The USDA defines organic agriculture as "a production system that is managed to respond to site-specific conditions by integrating cultural, biological, and mechanical practices that foster cycling of resources, promote ecological balance, and conserve biodiversity." (https://www.sare.org/)
Becoming certified as an organic winery is not an easy task. In order to be certified the entire wine making process, from in the vineyard to in the bottle, needs to be organic. This means that the grapes can't be grown using any type of synthetic fertilizer, and all practices must protect the environment and soil. The process takes three years to transition. Once the transition is complete, the winery can request to become certified. At this time, a third-party certifying agency audits all internal records and cross-checks to confirm that only organic products have been used. Once certified, the vineyards are then inspected annually.
We've stacked the odds so that you can get our award winning wines without breaking the bank. Click the image to find out all of the benefits of joining the CHALK CLUB including free shipping and progressive discounts.

The goal behind organic farming is that if the winery is not putting bad stuff into the soils, then the soils will allow for better grapes. Who wants to taste the terroir, if the terroir is full of unnatural contaminants. Instead of spraying the vines to protect them pests, organic wineries use animal "partners" such as sheep and chickens. It is all about creating a diverse micro-biome in the vineyard. The more diversity, the healthier the site. 
What's Your Ritual?
Located in the Casablanca Valley of Chile, Ritual Wines grows their vineyards among 2,500 hectares of forest. The vines are influenced by both the Pacific Ocean and the Humboldt Current allowing the fruit to grow in a rather cool climate environment. Following Old World techniques, the fruit is hand picked, foot crushed and fermented whole berry with natural yeast. The wines are then aged in a variety of vessels, including stainless steel tanks and barrels, concrete amphorae, and oak barrels to provide complexity to the final product. 
Compost is made by combining natural components along with guano (seabird and bat excrement). They preserve a healthy cover crop that is kept in check by herding sheep and maintain their organic certification in all their vineyards. 
The 2019 Ritual Sauvignon Blanc pours pale lemon in the glass. On the nose, the aromas of grass, lemon and chamomile are pronounced. On the palate, the light bodied wine is dry with high acidity and low alcohol. Medium flavors of lemon, grapefruit and lime with a medium finish. The fruit was pressed whole-cluster and remained on skins for 36 hours. Partially fermented in concrete eggs, neutral oak and stainless steel tanks. SRP: $19.99. 100% Clone 1 Davis Sauvignon Blanc  RS 1.42g/L 13.5% ABV
The 2018 Ritual Chardonnay is 100% Mendocino clone and pours pale gold with aromas of apple and toasted nuts. On the palate, the wine is dry and medium body, acidity and alcohol. On the palate it is a bit on the buttery side with oak, pear, green apple and honey flavors. Medium finish. Fermented in 20% concrete eggs, 20% new 400L oak barrels and 60% neutral oak. Fermented on lees. SRP: $20.99  RS <1g /L 14% ABV
The 2017 Ritual Pinot Noir is 100% Pinot Noir comprised of clones 9 and 16. Medium ruby in color with medium aromas of cola and red cherry. On the palate it is dry with  medium acidity and low tannins. Medium alcohol and light in body. Medium flavors of red fruit and tar. The wine saw 11 months in 20% new French oak. SRP: $20.99 RS 1.72 G/L 13.5% ABV  
Three Regions, Two Vineyards and One Philosophy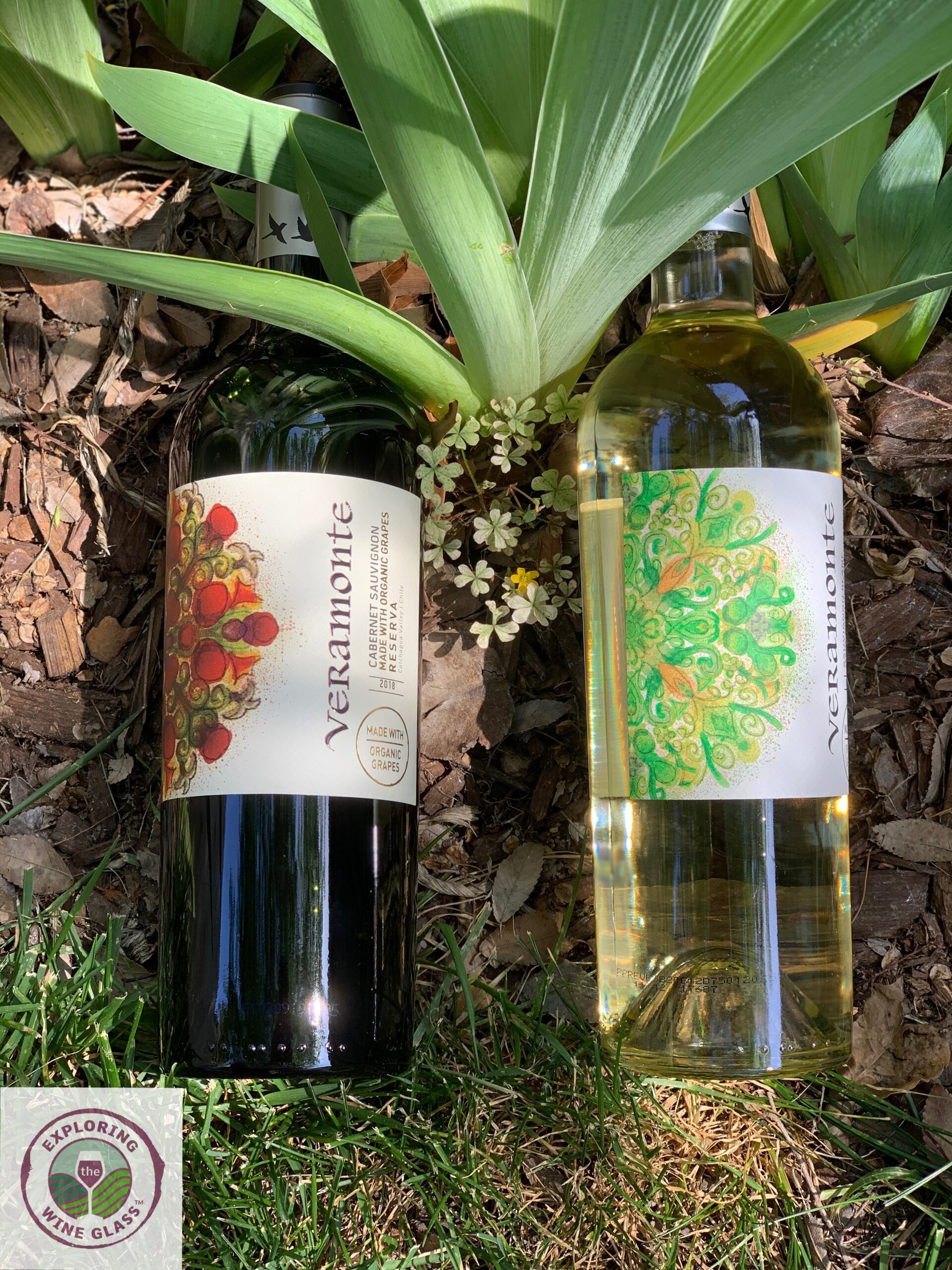 Viñedos Veramonte, similar to Ritual Wines, is imported by Gonzalez Bypass, and farm their vineyards organically. Their portfolio is divided into Gran Reserva and Reserva. Their Sauvignon Blanc, Chardonnay, Pinot Noir, Merlot and Syrah fruit comes from the Casablanca Valley. The fruit is able to remain on the vines longer thanks to the morning breezes and mists from the Pacific Ocean. Carménère and Cabernet Sauvignon are grown in the Colchagua Valley which is located south of Casablanca.  
Respecting the earth is a top priority for Viñedos Veramonte. They believe the soils are living and in order to maintain their health, both vineyards are farmed organically. Continuously taking from the earth without giving back may produce good wine in the beginning, but to sustain making high quality wine that expresses the itself fully, you must give back. 
The fruit for the 2020 Veramonte Organic Sauvignon Blanc comes from vines that are less than 30km from the Pacific Ocean. It pours pale lemon with pronounced citrus and tropical aromas. The Sauvignon Blanc is dry with medium acidity low alcohol and is light bodied. On the palate it is mineral driven with lime flavors. Medium finish. 100% Sauvignon Blanc harvested at night and direct to press where it sits on skins for 24 hours. SRP: $11.99 RS 1.0g/L 13.5% ABV
The fruit for the 2018 Veramonte Organic Cabernet Sauvignon comes from the Colchagua Valley, in the hills of Marchigüe. The wine pours deep purple in color. On the nose it all dark fruit. On the palate it is dry, medium acidity, tannins and alcohol and full body. Dark cherry and plum flavors are prominent with hints of cigar and earth. Medium finish. 8 months in neutral oak. SRP: $11.99 RS 3.72g/L 14% ABV
Earth Day Celebrations
Tomorrow is Earth Day, how will you be celebrating?  Why not pick up a bottle of organic wine and raise a glass to Mother Nature? Why not check out earthday.org to find some suggestions on activities. Since many are virtual, you can still register and even participate with a glass in hand.
~Slåinte!
Dracaena Wines has received consistent 90+ ratings and multiple Double Gold medals. Click image to order yours today and let Dracaena Wines Turn Your Moments into Great Memories!