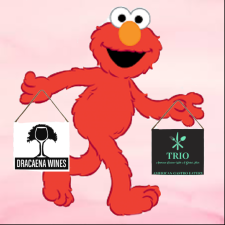 Welcome to our latest installment of #WinephabetStreet brought to you by Dracaena Wines and Trio North Wildwood. In this series, Debbie Gioquindo and I work our way through the wine world one letter each month. We discuss the characteristics and history of the grape, as well as suggested wine pairings. So uncork, unscrew or saber that bottle and connect with us as we chat, laugh and drink wine all in a laid back atmosphere.
E is for El Dorado
California's Gold Rush began in El Dorado County 1848 with James Marshall's discovery of gold at Sutter's Mill, on the South Fork of the American River in Coloma. As legions of people flocked to California to claim their fortunes, the region's winemaking industry was born.
By 1870, El Dorado County was among the largest wine producers in the state, trailing only Los Angeles and Sonoma counties. The local wine industry flourished until just after the turn of the century when there were approximately 2,000 acres of vines in the county. Shortly thereafter, El Dorado began a gradual decline, brought about by poor economic conditions and a diminishing local population. Prohibition was but the last straw. (from El Dorado Wines website)
In My Glass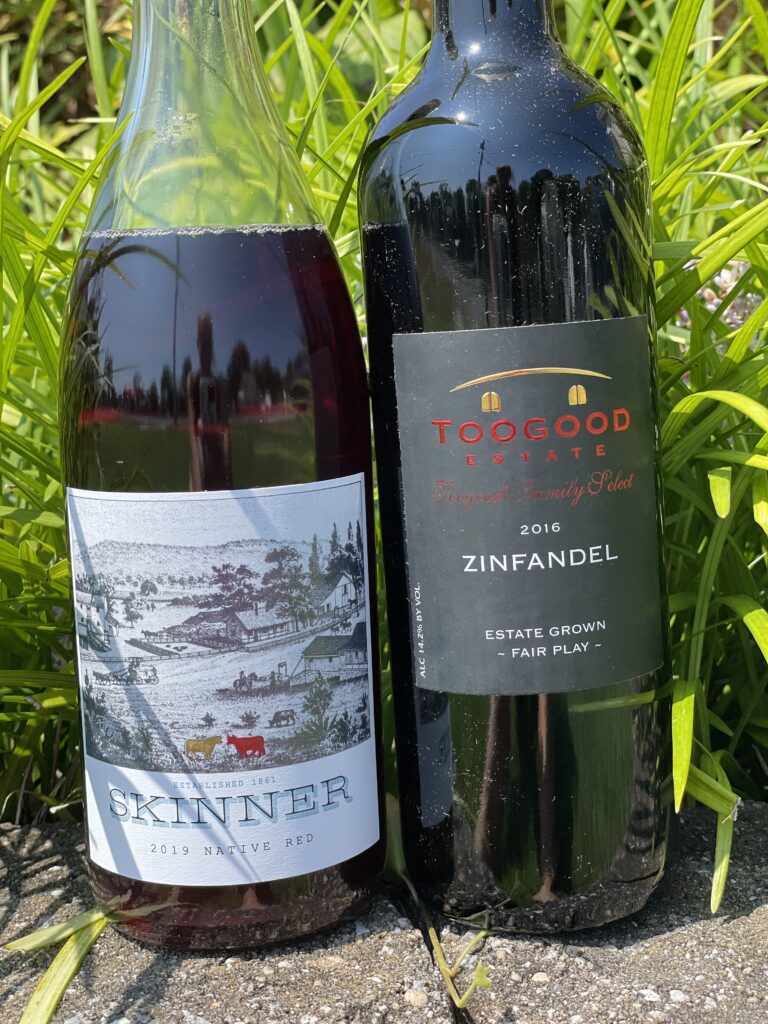 TooGood Zinfandel – The Toogood Estate Winery was established on a beautiful 40 acre parcel of rolling foothills purchased in May of 2001. It is one quarter mile square and offers microclimates perfect for the different varieties that were hand selected. The project of excavating the wine cave started on September 11, 2001. Nine months later, the excavation and floor were completed. In all, 5000 square feet of winery production and aging space has been created, all underground in a delicately controlled atmosphere. (from TooGood Winery website)
Skinner Vineyards Native Red – We wanted to make something unique to Skinner, and we wanted it to be a wine we could share with the world. An approachable blend that incorporated all of our "strange" legacy fruit married with varieties that are more common, but nevertheless El Dorado through and through – radiant and wild.  We wanted to make a wine that, perhaps, cannot be made anywhere else.  And so was born our Native red, a tribute to our original brand name, J. Skinner Native Wines dating back to 1861. (from Skinner Vineyards website)
Variety is the spice of life and we have loads of options for you to choose from in order to listen. Ready to listen now? Just click the play button. 
Can't listen right now, no problem, click the title link and you will be brought to our homepage where you'll have the option to download the podcast. 
Don't have time right now or prefer to listen on the run? We are on iTunes, Google Play Music, Spotify, RSS Radio, Overcast, Pocket Cast, TuneIn and Stitcher. You can even ask Alexa to "Play Exploring the Wine Glass." We'd appreciate you clicking the subscribe button on your favorite podcast app and please take a minute to review us. Each review will help others to find us! 
Podcasting not really your thing? No problem, You can watch a replay of  the live stream video on our YouTube channel or right here. I hope you enjoy!  
Our next episode of Winephabet Street will air the week of September 19th, with our special guest Etna brand ambassador Francesco Ferreri. You can sign up for a reminder here. The letter of the day will be F and it stands for Frappato. And don't forget to head to our Winephabet Street website to find out more.
Follow me on Instagram!   Follow me on Twitter!
STITCHER | iTUNES | GOOGLE PLAY | SPOTIFY | PODBEAN
Want to catch up on previous episodes?
SEASON 1 EPISODES

SEASON 2 EPISODES

SEASON 3 EPISODES

~Sláinte!
We've stacked the odds so that you can get our award winning wines without breaking the bank. Click the image to find out all of the benefits of joining the CHALK CLUB including free shipping and progressive discounts.