I have always loved underdogs. Underdogs never settle.  They have a strong desire to show that there is more to them than meets the eye. Underdogs come out of nowhere to shock the world and do not take anything for granted. 
The Underdog Story
Even as a child, all of my favorite shows featured underdogs.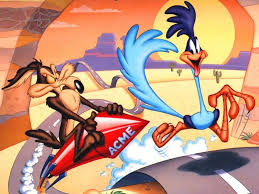 The Road Runner… underdog. That darn Wile E. Coyote kept trying to catch him and make him dinner. The Road Runner just loved running. He would beep beep and be happy. The coyote, although higher on the food chain and armed with whatever was the newest Acme creation, still could not beat the Roadrunner. 
And let's not forget the literal underdog… UNDERDOG!  "There's no need to fear, Underdog is here." Come on.. the humble and lovable Shoeshine Boy that everyone overlooks and takes advantage of is truly a superhero! It doesn't get any better than that!  "Look in the sky!" "It's a plane!" "It's a bird!" "It's a frog!" As underdog would fly over head he would rhyme. "Not plane, nor bird, nor even frog, it's just little old me… heh-heh-heh- Underdog! The series itself ended before I was born, but I watched those reruns with such fervor. No matter what  Simon Bar Sinister or Riff Raff did to try to harm Polly Purebred, Underdog was there to save the day! 
If we want to leave the cartoon world and look to real life underdogs, I don't think there
is a bigger underdog persona than Rudy!  I am pretty sure everyone has seen this movie at least 100 times. If you haven't you are missing out.  Even though Mike Golic, who was on the team at that time has stated there was quite a bit of literary license in the story line.. it is a phenomenal movie. One that shows how an underdog that keeps getting beat down, gets up over and over again to finally see their moment in the spotlight. 
BUT, if we are talking about the true underdog of the wine world, there is no greater one than Cabernet Franc. Cabernet Franc has gotten around quite a bit and is responsible for so many of the grape varieties that oenophiles rant and rave about, but for some reason it doesn't seem to get its just due. 
The Origin Story 
Cabernet Franc, whose origins seem to lie in Basque country in the western Pyrenees has many blood relatives including Cabernet Sauvignon, Carménère, Gros Cabernet, Merlot, Merlot Blanc, Morenoa and Hondarribi Beltza.  Some of these varieties are a bit more common than others. The most known relationship is the natural crossing between Cabernet Franc and Sauvignon Blanc to give us the ever so popular Cabernet Sauvignon. If you would like to listen to the Cabernet Franc and Sauvignon Blanc love story, click here!
Two of the more uncommon relatives are Hondarrabi Beltza Morenoa. Hondarrabi Beltza is a main dark-skinned variety, like Cabernet Franc is found in the Basque region of Spain, where it actually is the only place it is grown. It is used to make Txakoli (pronounced Chac-o-lee) wines in both red and rosé (rosado) styles. If you can find one, you should expect a wine that should be consumed young and has high acidity and a light body. Morenoa is a red grape variety thought to have come from France, but unfortunately is thought to be extinct or only growing in tiny quantities in non traditional vineyards. 
Let's take a look at this family tree. Because it gets a little tricky. 
Cabernet Franc crossed with two different unknown grape varieties and gave us Morenoa and Hondarribi Beltza.  There are some ampelographers who believe that this relationship is actually reversed and that Morenoa and Hondarribi Beltza crossed to give us Cabernet Franc. 
As if that is not confusing enough, here we go with some family relationships that in all honesty would be illegal if we were talking humans, but it is intriguing!  Hondarribi Beltza crossed with Fer to produce Gros Cabernet and THEN Cabernet Franc crossed with Gros Cabernet (technically its grandchild) to give us Carmenere.
We've stacked the odds so that you can get our award winning wines without breaking the bank. Click the image to find out all of the benefits of joining the CHALK CLUB including free shipping and progressive discounts.

So if we try to put this into a family tree – Merlot, Carmenere and Cabernet Sauvignon are all half siblings. Gros Cabernet is, at the same time, the mate and grand-offspring of Cabernet Franc. Which means that Carmenere is, at the same time, the offspring and great grand-offspring of Cabernet Franc. (whew!)
We all have the one side of the family that dances to their own music and that, my friends, is that side of the family. Because the Merlot side is so much easier! Very simply, (and not so scandalous) Cabernet Franc crossed with Magdeleine Noire des Charentes to give us Merlot.

The #WinePW Story
December 4th is #CabFrancDay. I created the holiday in 2015 and have called myself the Cab Franc Champion since I have been dedicated to proving to the world that Cabernet Franc is more than a blending grape.  This week, Wendy Klik of A Day in the Life on a Farm is hosting this month's WinePW with a theme I absolutely love!!! Cabernet Franc Around the World Join us on Saturday December 12th at 8am PST on Twitter. We'll be discussing some incredible Cab Franc pairings!
We decided to do a little shameless self promotion (why not?) for the post and we opened Dracaena Wines 2018 Classic and 2018 Reserve Plummer Vineyard Cabernet Franc. One of the incredible things about Cabernet Franc is that it pairs with so many different types of food. It can be enjoyed with vegetarian food as well as steak, game, veal, etc. It also can stand up to a foods with spices and a little bit of spice. (heat) It truly is an all around crowd pleaser. 

We chose to pair our Cabernet Francs with turkey burritos. The burritos have a hint of spice but are not spicy.  They contain classic Mexican spices without emitting any heat. There was plenty of savory and salty notes that paired well with our wine that is fruit forward, has plenty of acid and is not a tannic bomb. 

Ground Turkey Burritos

INGREDIENTS:

1 pound ground turkey

1 16oz. can of refried beans

1 medium onion, chopped

1 4oz. jar diced jalapeños

1 package McCormick Original Taco Seasoning Mix

1 can 14 oz diced tomatoes (or we dice up fresh plum tomatoes)

1 8 oz. package of Mexican blend cheese

8 burrito size flour tortilla shells (can use corn if you prefer)

DIRECTIONS:

1- In a large pan, add some oil to coat pan and cook ground turkey until brown and juice runs clear. Remove and set aside.

2- Cook diced onions until translucent.

3- In a small pot, warm the refried beans.

4- Return cooked turkey to pan, add diced jalapeños, tomatoes, and seasoning mix. Stir until completely coated.

5- Warm an individual tortilla shell in the microwave for 5 seconds. (this makes it easier to roll) Place a dollop of refried beans, some of the turkey mixture and a handful of cheese onto one side of the tortilla. Be sure not to go too close to the edges or you'll have a blow out.

6- Roll up the tortilla three quarters of the way, then tuck the two sides in and complete rolling.

7- Use a small portion of the refried beans to help seal the burrito. Sprinkle a little more cheese on top.

8- Bake in a 350o pre-heated oven for about 15 minutes. Just long enough to warm the burritos and melt the cheese.

Ground Turkey Burritos

Our Story

We always get asked where we got the name for our winery from. It is all about combining our two loves. Wine and weimaraners! Our original weimaraner was named Draco, after the constellation of dragons' souls. When he passed, after 14 amazing years, we got a Draco tree as a memorial. The tree itself is pretty cool, it's nickname is Dragon Blood because the sap bleeds red. Both Michael and I are scientists. So the name is an amalgamation of Draco and us being science dorks.  The scientific name for a Draco tree is Dracaena Draco. Our Draco stands tall in front of a Draco Tree.

| | |
| --- | --- |
| | |

So mark you calendars, put the reminder in your phones to celebrate Cab Franc Day every December 4th every year! And while you are at it don't forget to join us Saturday, December 12th at 8am PST for our monthly #WinePW Twitter chat! I hope to see you on the socials sharing your Cab Franc Love! Dracaena Wines was offering a special in honor of the day, but we have decided to extend it through December 12th, in honor of #WinePW.  Get a specially priced two pack by clicking here.  

~Slainte!

Dracaena Wines has received consistent 90+ ratings and multiple Double Gold medals. Click image to order yours today and let Dracaena Wines Turn Your Moments into Great Memories!