Whoa! Wait! What? No sex for a year! During a research study, 6 million people in the
United States said that they would be more than happy to go sexless for a year! Yep, you read that right. So what would make people willing to give up sex? One word – PIZZA! People may have opinions on what is on their pizza, or whether it is deep dish, or thin crust, but the general consensus is that pizza never fails to satisfy. That is some serious love for pizza. 
What else do American's love? They love SuperBowl Sunday! Even those who aren't football fans (baffles me!) love watching the SuperBowl for the advertisements. Although I think a large portion of the male population watches the half-time show just hoping to see another "wardrobe malfunction" [Janet Jackson 2004], and was rewarded this year with Chrissy Tiegen, others watch to rave or bash it. Either way, SuperBowl Sunday is a major day in America. According to Twitter there were 27.6 million tweets including #SB51. That's a lot of tweets! 
Super Bowl Sunday is also a huge day for eating and drinking. According to the National Restaurant Association,
SuperBowl Sunday is the busiest day of the year for pizza. Pizza Hut sold more than 2 million pizzas and Domino's sold over 12 million slices. Admittedly, beer does come to mind more often than wine when it comes to football, there is something special about pizza and wine. It is a phenomenal pairing. When considering what wine to choose, you must take into consideration the fat in the melted cheese and the acidity of the tomatoes. To counter these components, you need a wine with medium-high to high acidity. You also want to avoid reds that are high in tannin, since the combination of the tomato flavor and lots of tannin lead to a metallic sensation on the palate.
A safe bet when choosing a wine to pair with your pizza would be an Italian wine. Some of the best pizza in the world is from Italy. Heck, it is the home of pizza! So it stands to reason that an Italian wine would pair nicely. I knew that this Cusumano Nero d'Avola from Sicily would hit the mark. 
Homemade Pizza Time
Thanks to Will Rogers and Terlato Wines, I received an entire kit to make homemade pizza! Although I really am not that adept in the kitchen, I do rock making homemade pizza. Mike does the majority of the cooking in our household, but when Sunday comes around, it is my turn in the kitchen and it is usually pizza. I have about 5 different recipes that I created depending on what mood Mike is in. His favorite uses whole wheat, corn meal and bread flour. However my favorite is my deep dish pizza. For tonight's pizza, I decided to make my basic recipe:

Basic Pizza Dough
Ingredients:
10 ounces of warm water
2 1/2 – 3 cups flour
1 Tbs honey
1 Tbs olive oil (plus more for coating
1 tsp salt
2 1/4 tsp active yeast
your favorite tomato sauce (I make my own from scratch)
toppings of choice (I used bacon and onion)
2 cups mozzarella cheese (shredded)
Directions:
1 – Prep the yeast by adding it to the warm water and honey. Let sit for 10 minutes.
2 – In a large bowl add 2 1/2 cups flour. Create a well in the center and gently pour the yeast water into the center.
3 – Using a wooden spoon, fold the flour into the water and continue to mix. Add more flour as necessary and continue to knead until dough is no longer sticky.
4 – In a clean bowl, pour olive oil to coat sides. Place dough in the bowl and roll so it is coated. Cover the bowl and let sit for 45 minutes.
5 – Re-knead dough and set back in bowl for second rise for another 45 minutes.
6 – Roll out dough into preferred shape and let sit for about 10 minutes while the oven pre-heats to 500oF.
7- Cook for 5 – 7 minutes, pull dough out and add some mozzarella cheese, then the sauce and toppings. Finally, add the remainder of cheese.
8 – Cook for an additional 10 -15 minutes depending on how well done you like your pizza.
A great Sunday making homemade bacon and onion #pizza paired with @cusumanowinery Nero D'Avola plus #falcons winning #SB51 @terlatomedia pic.twitter.com/zzPrDbCC1D

— Lori & Michael (@Dracaenawines) February 6, 2017
Nero d'Avola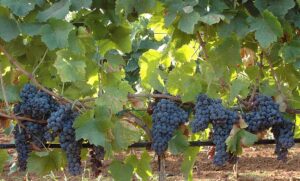 Nero d'Avola, pronounced "Neh-roe Dah-voe-lah" and translated "The black (grape) of Avola," is Sicily's most popular red grape. It is used in the region's bestselling varietal wine. Until the 1980s,  Nero d'Avola was mostly used as a blending grape in French and northern Italian wines. Earlier expressions of Nero d'Avola, were often syrupy, with an alcohol content reaching eighteen percent. However, viticulture technology has advanced and the grape is now often compared to Syrah. An example of better viticulture is that vintners now harvest at night, allowing the fruit to be cooler and retain flavor without producing an overpowering wine. 
Nero d'Avola is also known as Calabrese. This lended itself to some confusion among experts. The belief was that the grape was originally imported from Calabria on the mainland. Research has shown that this is not true. According to Italian-wine expert Luca Mazzoleni, Calabrese is likely to be an 'italianization' of ancient vernacular name of Nero d'Avola, being 'Calaurisi,' which literally means 'coming from Avola'. Avola, is a wine-growing village in Southeastern Sicily.
The grape leaf of Nero d'Avola is large, orbicular, and entire. The bunch is is considered medium size, conical in shape, with a wing. The berries are also medium sized and oval. The medium thick skin is blue, highly resistant to fungal diseases and bad weather. You can find Nero d'Avola planted in various DOC including Marsala, Santa Margherita di Belice, Cerasuolo di Vittoria, County Sclafani, Menfi, Sambuca di Sicilia, Eloro. 
Cusumano Winery
Cusumano Winery is located in Italy and has 502 hectares (1,240 acres) of vine planted. The vines are planted across seven vineyards each with a distinctive terroir.  The largest vineyard, Ficuzza, is located in Piana degli Albanesi in the provinces of Palermo. Second in size at 140 hectares (346 acres) is San Giacomo in Butera in the

province of Caltanissetta. The remainder vineyards are found in Caltanissetta, Pachino, and Monreale. 
Cusumano Winery is the creation of two brothers, Diego and Alberto, who followed their passion for wine and paying attention to small details. Together with their father, Francesco Cusumano, the brothers hired winemaker Mario Ronco to grow and maintain over 1,000 acres of vineyards located around Sicily. The wines are all estate grown and the family owns and operates more than 1,000 acres of vineyards located in different areas around Sicily.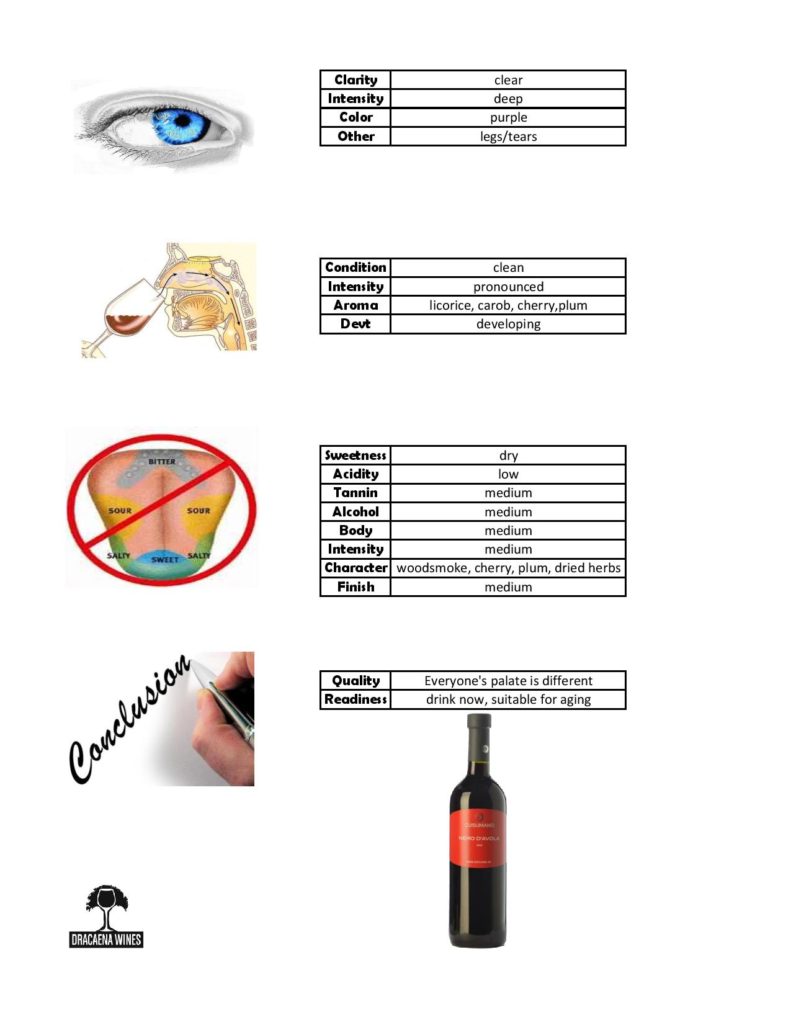 I Had Questions, They had Answers
Being that this was a brand new grape variety to me, I had a few questions. I also wanted to learn more about the winery itself.  It isn't often that you get a direct line to the winemaker, especially when they are across an ocean over 4,000 miles away! (in case you can't crack my code; LB is me and MR is Mario Ronco, winemaker.) 
LB-  Nero d'Avola was once thought of as a blending grape and has recently come into its own as a single varietal. Have you always made it as a single varietal? 
MR- In the History, the old vines of Nero d'Avola were mixed with many other different varieties in the same vineyards, and only after the phylloxera, the vines were replanted with a first selection of quality. Much later started the cultivation of the single vineyards of Nero d'Avola.
LB- Have you always made it as a single varietal? 
MR- We have only single varieties cultivates on our vineyards, and personally I prefer to vinify each one separately to be able to reach the maximum ripeness of the vineyards.
LB- How are the vines tended? What type of trellis system do you use? What is the average tonnage for this grape varietal? 
MR- The vineyards are tended 98% in Guyot system and a small part in free-standing. Calculating about 5.000 plants per hectare, the average is 7000 kg/ha, but it varies according with the vineyards.
LB- What type of soil does the grape prefer?
MR- The grape vine is the plant that more than any other is able to transfer the taste of the terroir to its fruits. Thanks to this excellent quality, we can experiment vineyards in many different terroirs what allows us to have many expressions on each vintage. 
LB- How long as Cusumano been in existence? What is your annual case production? Is it mostly distributed out of Sicily, or does the bulk of it remain in Sicily?
MR- The Cusumano family founded the winery in 2000. Today the annual production is 2.500.00 bottles in 530 hectares of owned vineyards in Sicily. The major part of the distribution is out of Sicily. We export in 62 different countries.
LB- What is your favorite thing about this grape? 
MR- The Nero d'Avola grape variety is versatile, excellent as young wine because never tires the palate thanks to its fresh acidity, becomes complex during aging, revealing hints of true Sicilian character.
LB- What is your oak program for Nero d'Avola? I see you pick from several vineyards. Are they co-fermented? What percentage of your Nero d'Avola harvest is used for the single varietal vs used in blending of other wines?
MR- As for all the grape varieties, the Nero d'Avola selected for the oak aging must be perfectly ripe and from the estate that  gives more complexity and character to the grape. Then, in my opinion tanks of 5hl and big barrels of 20hl allows to a better expression to this variety.
We vinify separately each part of the vineyards and only after the malolactic fermentation we make the assemblage.
LB- What percentage of your Nero d'Avola harvest is used for the single varietal vs used in blending of other wines?
MR- I have never counted, but I think about 75-80% of the Nero d'Avola became 100% Nero d'Avola bottled wine.
So tell me, what's your decision? Would you give up sex for a year to have unlimited amounts of Cusumano winery's Nero d'Avola and pizza? I don't know if I would, but I do admit it is definitely a difficult decision! 
~Sláinte!