In January, our #winePW group visited Argentina! (virtually) Unfortunately, my wine got lost in transit and didn't arrive in time for the chat. I wish I got to visit in real life, but that is one of the amazing things about wine. It can transcend you to a different place or bring you back to a specific memory with one sniff or sip.
The first thing that enters my mind when I hear Argentina is the Tango. I'm really not sure why, since neither Mike nor I partake in ball room dancing, but the mind does what the mind does.  In December, my post Tasting Altitude in Argentina Wines discussed the effects of altitude on the wines of Argentina. This month, we focus on two wineries in Argentina. 
But before we get to the wines, I wanted to explore more of the country itself. If you are going to travel, even virtually, you should get to know what the locals do because that's the best way to get the most out of your trip. 
The Tango
You can't mention Argentina, without talking about the Tango. The history of the sexy dance is a racy one! According to Murray Pfeffer
The Tango, often called 'The Argentine Tango', is Argentina's contribution to the world of dance. The Tango came from the brothels and low cafes of Buenos Aires at the turn of the century. However, at it's very beginning, it was a ballet-like dance between two men, which, just a little later, became the obscene dance of the brothels where both men and women had the opportunity to rub their bodies together. Over the years, the Tango has changed becoming an elegant and stylish dance evoking a picture of high society, with women in sleek glittering evening gowns and men in tuxedos and tails.
Gauchos 
If you think the Tango is sexy, Argentina continues the trend with their gauchos. A gaucho is a rugged, nomadic man who prefers to live the wild life rather than city living in Argentina's sprawling Pampas. It was these men, of mixed Spanish and indigenous heritage, who gained their legendary status in 1818 when they played  a vital role in the war. 
After the war, the gauchos moved to the lowlands of Argentina and settled in for their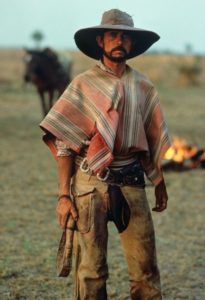 rustic life of working with cattle and the odd jobs requested by the owners of wealthy estancias (rural estates.) They were recognized by their attire. Baggy trousers (bombachas) to allow for easy riding, ponchos to keep them warm, a brimmed hat to keep the sun off of them and of course the tools of their trade; a facón (long knife), a whip and a lasso.  
Unfortunately, in the late 19th century, the lifestyle of  gauchos began to decline. In addition to being looked upon as uncivilized, the Industrial Revolution caused many gauchos to lose their jobs. Some became herders, shearers and handymen and took on full-time jobs, losing the nomadic traditions. Over time, they have adapted and tourism became their modality. Today, you can visit an estancia and experience the life of a gaucho as they cook, play music, guide horseback rides and educate about their culture and traditions. 
Futbol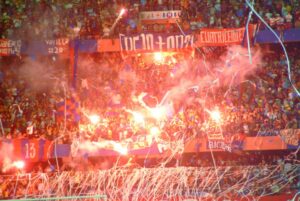 Futbol (American soccer) is an integral part of the Argentine culture. Many say that futbol is almost equivalent to a religion in Argentina. They take their devotion to the heart and some take it to the extreme. The barra brava, or futbol hooligans, are devout fanatics. Some consider them the counterpart of the mafia. They make a significant amount of money through scalping tickets, and selling merchandise at the games through intimidation tactics and often violence. 
Futbol has been part of the Argentine history since May 1901, when they played Uruguay on May 16th, however the first "official" match was in July 1902, again against Uruguay when they won 6-0.  Since its conception,  the Argentina national team has appeared in five FIFA World Cup finals and winning the Copa América fourteen times. They also have won the Olympics in Athens in 2004 and Beijing in 2008.
Food
Argentina is known for its food!  Argentines love to eat and are passionate about their prowess in the kitchen. While Argentina may be most famous for its world-class beef, Argentinian food also incorporates influences from many other distinct cuisines around the world. 
Before the Europeans arrived, native Indians lived in Argentina. Spanish settlers began to appear in 1536. By the late 1800s, nearly one million European immigrants settled in Argentina. The Indians had been growing squash, melons and sweet potatoes, and the immigrants brought their traditional foods which all influenced the dishes of Argentina. 
If there is such a thing as a national dish, Argentina's would be beef. If the gauchos are a symbol of Argentina, then the cattle they rustle must also be! The majority of dishes contain meat, but they are prepared in several different ways. Parrillada is a mixed grill of steak and other cuts of beef. Grilled steak is called churrasco. If you cook the beef open an open fire it is known as asado , and beef that is dipped in eggs, crumbs, and then fried is called milanesa . If stew is your jam, then look for Carbonada, which includes beef, potatoes, sweet potatoes, and chunks of corn on the cob. 
And of course, Wine!
Argentina's wine history began in 1551 when the Catholic priests planted vines in order to have wine for their masses. As immigrants entered the region, new wine making techniques were introduced. In the mid to late 1800s, Argentina, thanks to the expansion of the railroad system and the incorporation of Patagonia  began to focus on their wine industry. In 1853, the first school of agriculture in the country was opened in Mendoza and was responsible for the introduction of French vines to the region.   
Zuccardi Family of Wines 
The Zuccardi family of wines consists of a portfolio including three brands.  Zuccardi,  Santa Julia and Malamado. It is a family run winery founded in 1963 by the patriarch of the family, Alberto Zuccardi. An engineer by trade, Alberto began his wine vocation by planting vines in Maipú. He created his own irrigation system based on a method he had learned was used in California.  Since that day, there have been three generations of Zuccardi continuing the passion for wine farming their fruit from five distinct estates.  
Located in the district of San Carlos, La Consulta estate has 37 hectares mainly growing Cabernet Sauvignon and Malbec. The traditional furrow and ditch irrigation system is implemented in this estate, a system that was developed by the first vine growers in the region.
Located in the district of Tunuyan, Vista Flores estate has 55 hectares mainly growing Malbec, Chardonnay, Syrah and Cabernet Sauvignon. Parts of the vineyards use the vertical conduction system and the Parral Zuccardi conduction system is also used.
Altamira estate is located in the district of San Carlos; it has a drip irrigation system thus allowing water care and irrigation control even more efficient. It has 90 hectares mainly growing Malbec, Cabernet Sauvignon, Caladoc, Ancellotta and Tempranillo.
Prioritizing care for grapes, Familia Zuccardi has chosen the best areas for every grape variety. Located in the district of Santa Rosa, to the southeast of the capital city of Mendoza, this estate has 475 hectares of vineyard which have enabled due to the soil conditions the design of a conduction system known as Parral Zuccardi, which allows grapes to be protected from the hours of highest solar radiation with the right leaf density and cluster distribution.
Located 40 km southeast of the capital city of Mendoza and lying at an average elevation of 650 meters above sea level, Maipu estate has 180 hectares of vineyard. Here, the conduction systems known as parral (high trellis) which was introduced in Argentina by Italian immigrants towards the end of the XIX century and later adjusted by Engineer Alberto Zuccardi is used.
Bodegas Santa Julia 
Named after the only daughter of José Zuccardi, the current head of Familia Zuccardi, the wine label was created to represent high quality wines produced through sustainable practices.  Committed to being environmentally friendly and an expression of terroir on their certified organic vineyards. 
2018 Santa Julia Cabernet Sauvignon (SRP: $11)
Produced from 100% organically grown Cabernet Sauvignon from their Santa Rosa Vineyards. The wine was fermented in stainless steel tanks and remained on skin for 10 days of maceration. Poured ruby in the glass, aromas of black currant, bing cherry and black pepper.  On the palate you find dark fruit and sweet pepper. Medium body with a medium finish.
2018 Santa Julia Malbec Rosé (SRP: $11)
Produced from 100% Malbec from the Santa Rosa and Maipu Vineyards. The fruit was hand picked and fermented in steel tanks with select yeast.  Pale in color, with aromas of strawberries and citrus with similar flavors. Crisp and refreshing.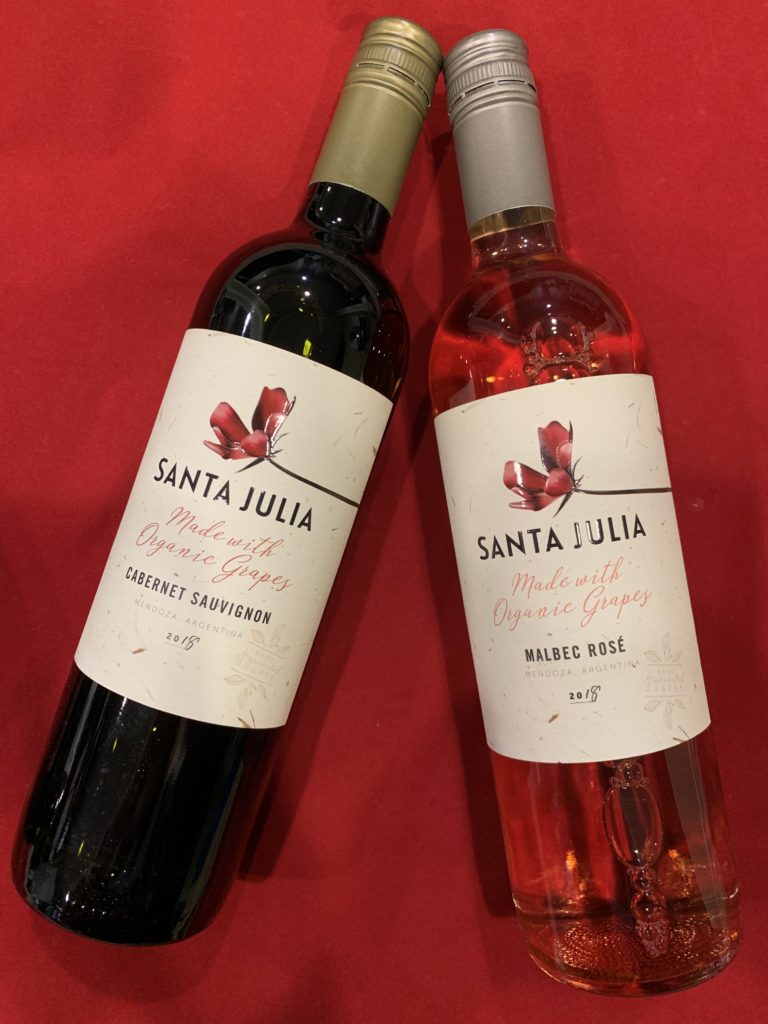 Zuccardi 
The Zuccardi Q line represents Quality. The fruit is harvested from the oldest and most uniform plots within the vineyards. The wines for this label are produced from the most recognized micro-regions in the Uco Valley. The family produces four wines, all under oak, from these old vines; Malbec, Tempranillo, Cabernet Sauvignon and Chardonnay. 
A Serie A line represents "Argentina Series." Once again focusing on the microclimates within the vineayrds, these wines are produced to demonstrate the true expression of each grape variety. Wines under this series are those of the most recognizable Argentinian grape varieties. Malbec from the Uco Valley, Torrontés from Salta and Bonarda from Santa Rosa. 
2016 Zuccardi Serie A Bonarda (SRP: $15)
Produced from 100% Bonards from the Santa Rosa Vineyard. The fruit saw cold maceration for 7 days before fermentation with select yeast. Pumpovers were performed for the following 20 days. 30% of the wine was then aged in oak for ten months. Deep red in color with aromas and flavors of plum and dark fruits. Medium finish. 
2016 Zuccardi Q Malbec (SRP: $20)
Produced from 100% Malbec from Paraje Altamira and Vista Flores Vineyards. Produced using gravity filled tanks, the wine was fermented using indigenous yeast and daily gentle pumpovers. The wine went through complete malolactic fermentation and was aged in both concrete and oak. Deep purple in color, with aromas of red fruit with a hint of floral. High acidity and medium bodied with dark fruit flavors, licorice and chocolate. 
2016 Zuccardi Q Chardonnay (SRP: $20)
Produced from 100% Chardonnay grapes from the Gualtallary and El Peral Vineyards. The wine was made from direct press and fermented in concrete and oak using indigenous yeast. Aging was on sur-leis.  Pale yellow in color, with aromas of white flowers, lime and spice. You can taste the  oak, but it is not overpowering and since it did not go through malo, it is not buttery. Flavors of lime, minerality and lychee with a nice acidity and medium finish.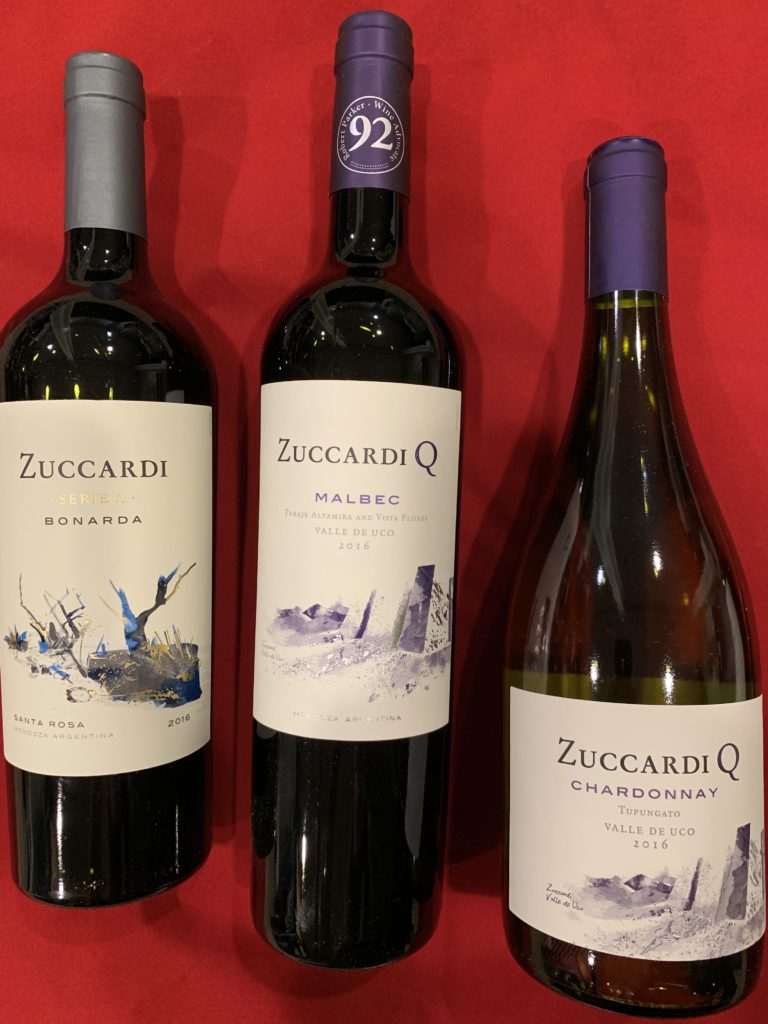 ~Sláinte! 
Dracaena Wines now has  a Wine Club! We named it the CHALK CLUB. Draco is on our label, but Vegas was getting a little jealous.  So we decided he deserved to be club spokesdog. In Las Vegas, betting CHALK means you are betting on all the favorites. We are betting that we are one of your favorite wineries, so we thought the name was apropos.  The club is simple yet a bit different than most. When you wager on us, we will ship you three bottles of wine twice a year; once in April and once in September. You can choose all red or a mix of red and rose'. You immediately receive 15% off ALL your wine purchases but what makes our club stand out is a progressive discount.  Let your club membership ride into the next year, your discount increases. Each year you parlay your membership, you receive an additional 5% off up to a plan maximum of 25%. Your club shipments are discounted. Flat $15 shipping PLUS we'll cover your club shipping cost for your second shipment. That is $15 house money in a sure bet for you! So please head to our website; www.dracaenawines.com/chalk-club to find out all of the benefits of joining the CHALK CLUB and to sign up. We've stacked the odds so that you can get our award winning wines without breaking the bank.