I was contacted by Benson Marketing Group prior to Valentine's Day and asked if I would be interested in sampling some wines that were perfect for Valentine's Day.  I thought about it, [rather quickly] and accepted.  My first post Need A Valentine's Day Wine? As You Wish published prior to Valentine's Day, with a theme from one of my favorite romantic movies, The Princess Bride.  Unfortunately, wines from Landmark Vineyards did not reach me in time for Valentine's Day, but that is quite alright, since it doesn't have to be Valentine's Day to show your loved one, that they mean the world to you by opening a special bottle of wine and preparing a meal for them.
I know most people think of Casablanca (UGH!), Titanic (YUCK!), or Gone With the Wind(DOUBLE YUCK!) when asked for a go-to romance movie. But I am not a fan of any of them. I thought I was the only who found The Princess Bride to be one of the most romantic movies, but I learned through the post, that I was wrong! I am not alone! So for this post, I opted to go to my second favorite romantic movie, 50 First Dates. If you are unfamiliar with this movie, it is about a girl who has a brain injury that makes her lose her short-term memory every time she goes to sleep at night and the man who loves her so much that every day he goes through the effort of making her fall in love with him again. (yeah, it stars Adam Sandler and Drew Barrymore – not exactly the classic romantic couple)

So I ask you, do you remember your first kiss with your love? I do! I'm not sure if that is a girl thing or just a thing, but I know exactly where Mike and I were when the first kiss happened.  We were on a Haunted Hay Ride and I was freezing my butt off!  We were cozied up in the corner of the trailer. It was a good haunted hay ride as far as they go, people were screaming I was laughing. That is about how they usually go. I find haunted houses funny, I like the feeling of not knowing what is going to happen, but I also know they can't touch me, so its funny. [yeah, I know, that isn't normal, but I never claimed to be normal. I think that's one of the things Mike loves about me] And it was that laughing that I think ultimately led to our first kiss right there in the hay just as Jason Vorhees came out from the woods.  
First kiss, first sip – is there really that much of a difference? Were there fireworks for you when you had your first kiss? Were your taste buds firing off their joy on your first sip? Did that warm and fuzzy feeling fill you as you continued to kiss your love? Did that velvety liquid envelope your tongue with excitement as you swirled it in your mouth? Did you finally, gently, reluctantly end that kiss but savor the sensation of their lips upon yours? Did you swirl and aerate that fermented juice in your mouth and finally swallow it and allow the finish to linger? Hmm, kind of similar, no? 
The Meeting
This wine and agriculture relationship began in 1974 when the great-great granddaughter of John Deere, Damaris Deere Ford, was part of a group that founded Landmark Vineyards. Fifteen years pass, and Damaris becomes the sole proprietor of Landmark and moves the vineyards to its current site in Sonoma.  
The Courting
Damaris Deere Ford, with agriculture in her blood, decides to focus her love on Chardonnay. She produces the first vintage of the flagship wine Overlook Chardonnay. To pursue the romance, Damaris realizes she needs to nurture the vines and in order to provide them with the love they deserve she hires Helen Turley to bring her magic to the relationship. Together with Damaris, Helen provides the backbone for the everlasting fairy tale of Overlook Chardonnay – whole cluster pressed grapes, fermentation by native yeast strains, and aging in French oak.
2013 Overlook Chardonnay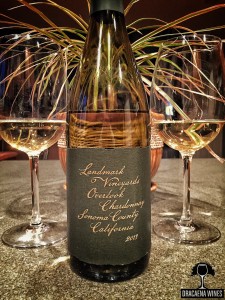 This wine poured yellow in color. On the nose we found butter, pear and honey. The intensity of the butter aroma scared me. I immediately cringed at the thought of it being a butter bomb. So I hesitantly brought the glass up to my lips and took a tentative sip.  Thank goodness, no butter bomb! Instead I was greeted with flavors of pear, almond and fuji apple. The wine was medium bodied and had a medium finish. This Chardonnay is a blend of 23 vineyards! The fruit was hand harvested and each lot saw light whole cluster pressing. French oak (25% new) were used for aging. Only native yeast were used for in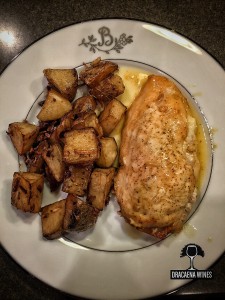 barrel fermentation. Landmark Vineyards recommends paring this Chardonnay with grilled salmon, roasted poultry dishes, seared pork tenderloin or quinoa salad.  By these recommendations, we knew we had to go with a light meal. We chose to pair it with a honey mustard stuffed chicken recipe that I found online. I replaced the ham with prosciutto. The pairing was divine.  The honey nutty notes of the chicken paired well with profile of the wine. It was like they were soul mates, just waiting to find each other. 
The Love Expands
After two years in the monogamous relationship with Chardonnay, Landmark Vineyards decided it was time to move on to the next step. In 1995 Grand Detour Pinot Noir was released. The addition to the family did not hinder the original love, in fact it allowed it to blossom. In 1997, Overlook Chardonnay was recognized as one of the top 100 wines by Wine Spectator [this will happen five more times.] As the coveted Chardonnay continued to shine, it was time to introduce the new child. In 2014, winemaker Greg Stach, following his winemaking philosophy of "great wine begins in the vineyard," Landmark releases its first Overlook Pinot Noir. 
2013 Overlook Pinot Noir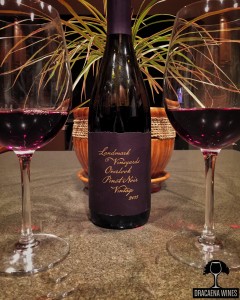 The wine poured ruby in color. On the nose aromas of bing cherry and strawberry along with a hint of cola. On the palate were flavors of cherry, red currant, tar and smoke.  It was a lighter bodied Pinot with a medium finish.  The wine was blended from cool climate vineyards in Sonoma(64%), Monterey(27%) and San Benito(9%) counties. The fruit is hand harvested and hand sorted and then fermented in small, single vineyard lots with daily punch downs. After fermentation is completed the wine sees 10 months in 33% New French Oak barrels. Throughout the aging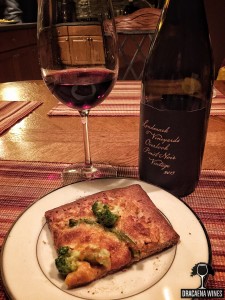 process, Greg Stach continuously samples each barrel taking notes to come to the final blend to create this wine. Their website recommends a paring with roasted pork, duck a l'orange, eggplant parmesan, grilled summer vegetables and aged cow's milk cheese.  We decided to think outside the box and we paired it with a hummus pizza I found on allrecipes.com (I used wheat pizza dough).  It was a great alternative pairing. The nuttiness within the hummus brought out more of the red currrant. The lightness of the meal and the lightness of the Pinot worked together without one overpowering the other. 
Home is Where the Heart Is
Although the winery itself is located in Kenwood, CA in Sonoma County. Landmark Vineyards source their fruit from three counties. The bulk of the vineyard sites (7) are located in Sonoma, two additional vineyards sites are in Santa Barbara and one in Monterey.